HELP A CHILD | #FriendLikeMe CHALLENGE | LIFE-CHANGING WISHES | MOMENTS THAT MATTER
In celebration of the release of Walt Disney Studios' much anticipated new movie "Aladdin", Disney and Make-A-Wish® launched a global wish campaign to celebrate and promote the power of wishes. The campaign included a number of global, regional and local activities, many of which fans of Disney and the movie could join in and play their part.
Disney and Make-A-Wish have a long-standing history and since 1980 Disney has helped fulfil more than 130,000 wishes for children with critical illnesses around the world. For more than 37 years, we've seen how a wish can play a critical role in a child's treatment, replacing fear with confidence, sadness with joy and anxiety with hope.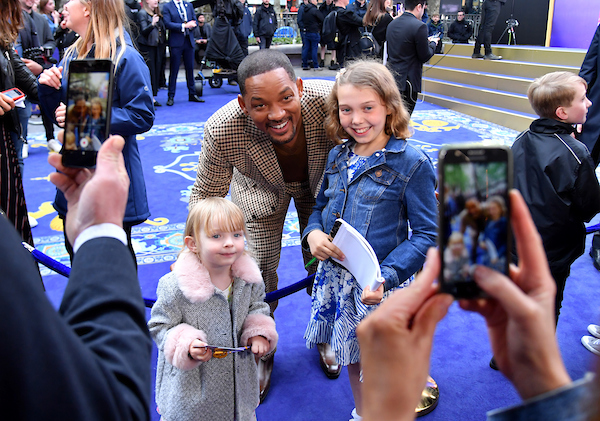 The campaign is part of The Walt Disney Company's global commitment to deliver comfort and inspiration to families with children facing serious illness. Together we work with others to help build emotional resilience, leveraging the power of our brand, storytelling and characters to inspire and create Moments that Matter for children and those closest to them, who need it most.
If you are a guest visiting our site from the Republic of Ireland, please see our Republic of Ireland Terms and Conditions (PDF) information on how you can participate.
HELP A CHILD ON THEIR WISH JOURNEY
Walt Disney Travel Company donated £10 to Make-A-Wish with every 2019 Ticket that was purchased from 4th June – 12th July 2019.
To celebrate the release of Disney's live action "Aladdin", between 4th June – 12th July 2019, Walt Disney Travel Company and Disney Worldwide Services donated £10 for every Walt Disney World park entrance ticket booked for a 2019 arrival, raising a grand total of £100,000!
Each qualifying ticket purchased during this time has gone towards helping Make-A-Wish grant more life-changing wishes for seriously-ill children across Europe.
Please take a look at the Walt Disney Travel Company.
#FriendLikeMe Challenge
Where there's a wish, there's a way to help children with critical illnesses. Our #FriendLikeMe Challenge has now come to a close. We'd like to thank everyone that took part in our giving campaign, in celebration of Disney's "Aladdin", and supporting Make-A-Wish® to help grant life-changing wishes all over the world.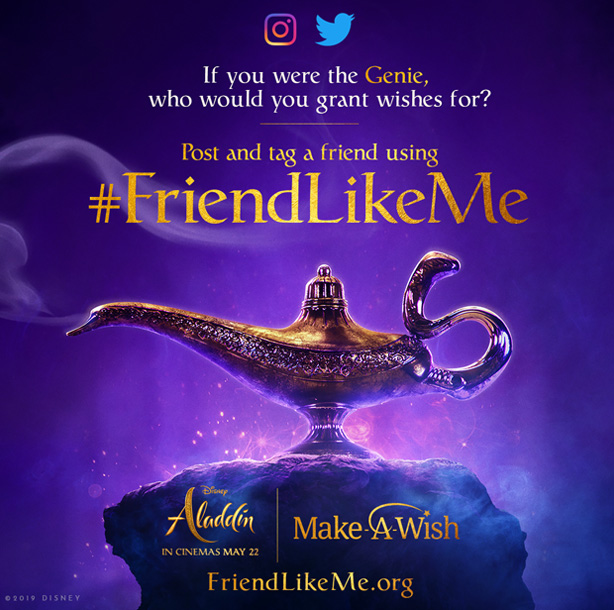 Unlock life-changing wishes with
The Disney Store
This key, and thousands like it were part of our Disney Stores Campaign to help unlock life-changing wishes for seriously-ill children as part of Disney's "Aladdin" Make-A-Wish celebration campaign. Thanks to everyone who was able to join us on Saturday May 25th to support the cause.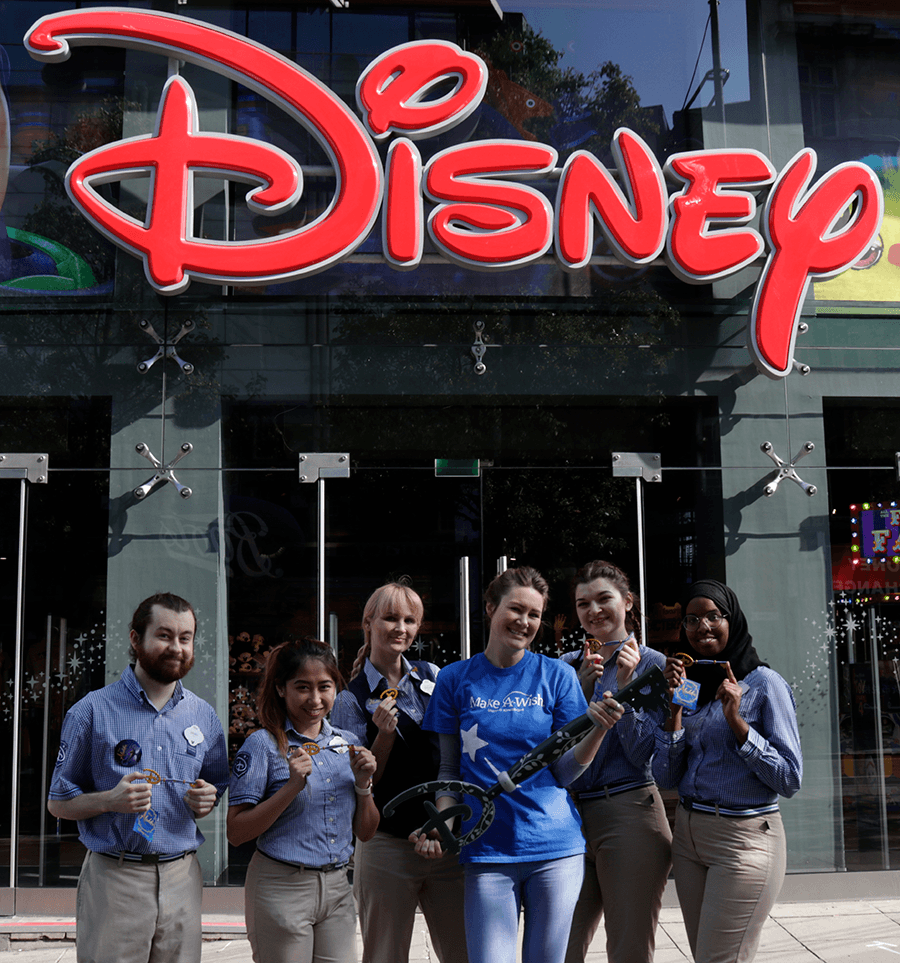 For Local Terms and Conditions, including participating countries, please see our Terms and Conditions (PDF).
Together, creating Moments that Matter
In addition to raising awareness and donations through the campaign, Disney continues to collaborate with our Make-A-Wish affiliates, to help fulfil life-changing wishes for seriously ill children. A huge thank you to our amazing Disney VoluntEARS who help create magical moments for seriously-ill children across our Region.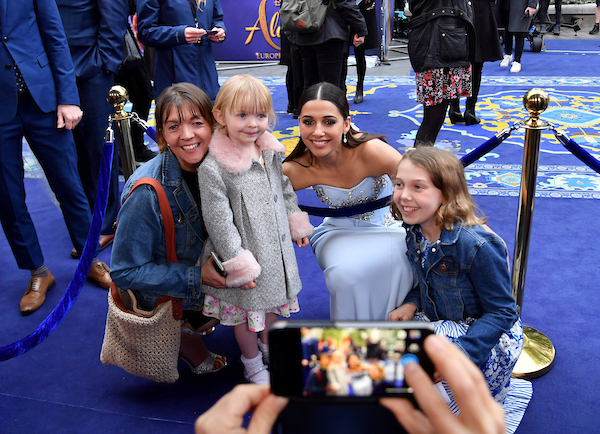 ABOUT MAKE-A-WISH®: Make-A-Wish creates life-changing wishes for children with critical illnesses. We seek to bring every eligible child's wish to life because a wish is an integral part of a child's treatment journey. Research shows children who have wishes granted can build the physical and emotional strength they need to fight their illness. Headquartered in Phoenix, Arizona, Make-A-Wish is the world's leading children's wish-granting organization, serving children in more than 50 countries worldwide. Together, generous donors, supporters, staff and more than 40,000 volunteers grant a wish every 17 minutes, on average, somewhere in the world. Since 1980, Make-A-Wish has granted nearly 450,000 wishes to children; more than 30,000 last year alone.
For more information about Make-A-Wish® International and to find your local affiliate, visit worldwish.org.