To celebrate the release of Frozen 2, Disney UK and MediCinema created 223 Moments that Matter for seriously ill children at 6 special screenings of Frozen II in five hospitals across the UK.
To build excitement and awareness for the special screenings, Frozen ll themed activity sheets were given out to every child on their dinner trays before the event took place for them to enjoy Frozen II themed puzzles and activities. The children were also invited to participate in Frozen ll themed arts & crafts which included a 'stained glass leaf' and a foam glitter crown for the children to decorate.
Alongside this, the children enjoyed a 'fun in the foyer' session where the children and those closest to them had their faces painted, received their very own Frozen ll themed balloon, enjoyed more arts and crafts and had a surprise visit from Anna, Elsa and Olaf. As a leaving gift every family had the opportunity to have a photo taken and printed in a unique Frozen II frame to take away at the end of the film with an Olaf cuddly toy to capture the unforgettable moments created throughout the day.
Stephanie Wylie, aunt to Rory aged 6 said, "After a horrible few months of my nephew Rory being really sick, it has taken its toll on him. Being able to attend MediCinema at Glasgow children's hospital was a breath of fresh air. The whole event was magical, I could see how hard the staff had worked and how happy it made not only Rory but all the other children. The meet at greet with the Frozen characters excited me as much as the children, the face painting, balloon art, gifts at the end, and the patience from the staff were the icing on the cake to a magical night. That good in fact that I set up a regular monthly donation straight afterwards. Again a massive thank you it really brightened Rory's spirits which as his family made us all so happy."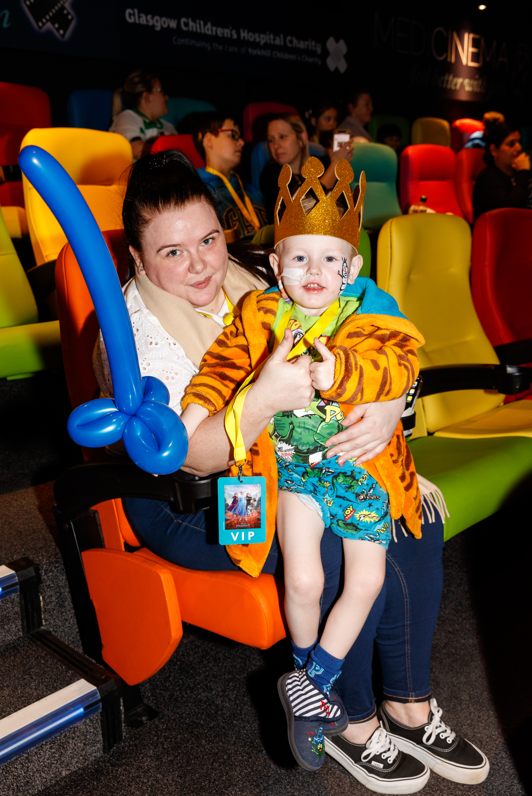 Paul Giggal, MediCinema's Director of Operations said: "It is always wonderful to see how much patients and their families enjoy being able to leave the wards for a short time to enjoy a film together at the MediCinema. Today was made even more special by the excitement of having Frozen 2's stars with us."
MediCinema is a charity dedicated to improving the wellbeing of patients, their families and carers, giving them a break from the ward and all the difficulties of being in hospital through the power of the shared cinema experience. We do this by building, installing and running cinemas in places of care. Our cinemas are specifically designed to comfortably accommodate wheelchairs and hospital beds whilst maintaining a real and immersive cinema experience away from the wards for patients and their families.
The screening of Frozen 2 at The Royal Children's Hospital in Glasgow, a collaboration between MediCinema and Disney UK, is part of The Walt Disney Company's global commitment to deliver comfort and inspiration to families with children facing serious illness.
Together we work with others to help build emotional resilience, leveraging the power of our brand, storytelling and characters to inspire and create Moments that Matter for children and those closest to them, when they need it the most.