As news emerges that lockdown has hit disability sport participation hard, Marvel unites with Superhero Series to launch a super counterattack…
The Find your Power Challenge!
When: 29 May to 5 June 2021
Where: homes and neighbourhoods around the globe!
Research shows that 39 per cent of people with disabilities have done no physical activity during the pandemic
In response, Marvel is joining forces with the Superhero Series to create a one-off, ultra-flexible challenge calling participants with any kind of disability and their family and friends everywhere to 'Find Your Power'
Each entrant will be put into one of five super teams, led by a celebrity team captain, to virtually race from London to the avengers' tower in New York and back – a total of 10,000km per team!
The Superhero Series, the UK's one and only disability sports series for the everyday Superhero is back – with the announcement of the 'Find Your Power Challenge' taking place 29 May-05 June 2021. The event will see approx. 3,000 'superheroes' take part in a virtual 'race to the Avengers tower and back' covering a total distance of 50,000km.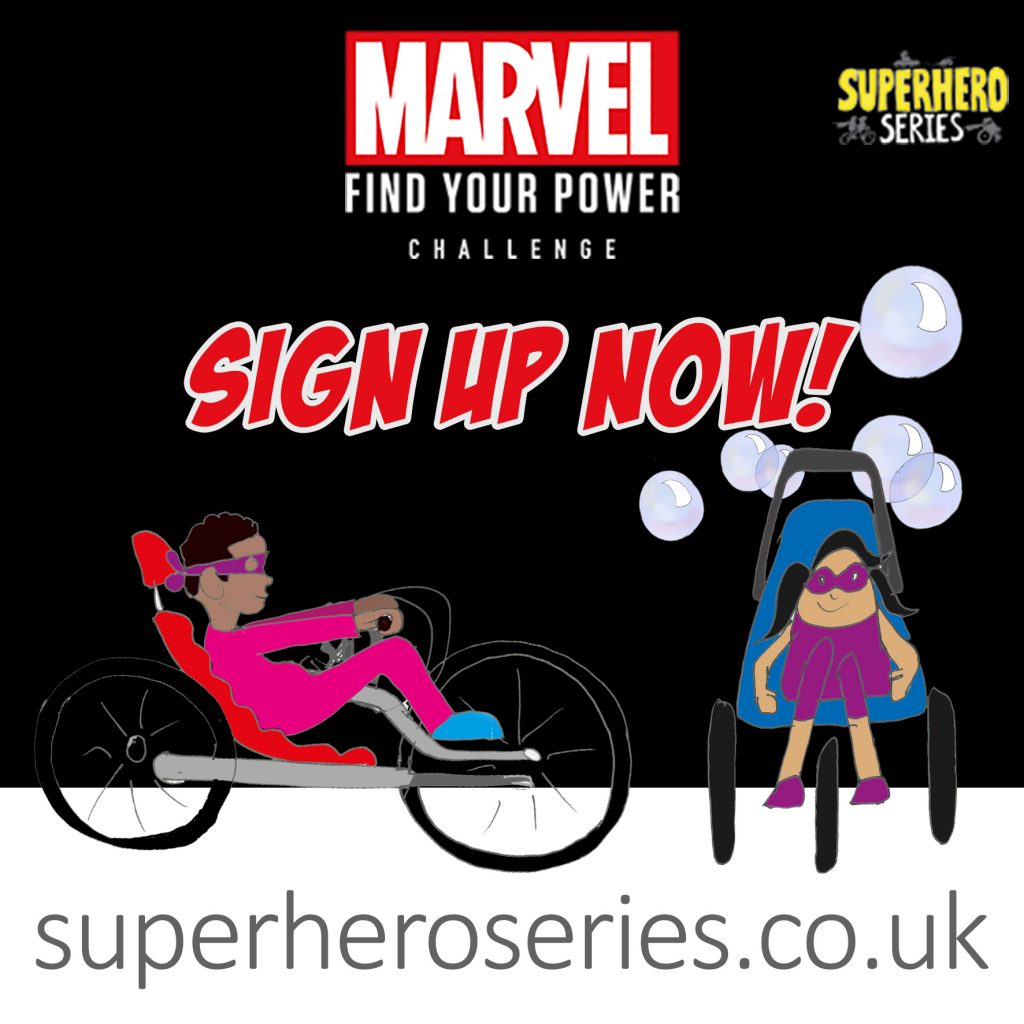 Led by a group of celebrity captains to be announced in due course, participants will be divided in five Marvel-themed teams and can take part however they choose, with no restrictions on equipment. With a roadmap out of lockdown now in place there is a light at the end of the tunnel for this group and the Find Your Power Challenge will empower those who have struggled, to power-up and work towards a common goal.
Figures show that twice as many people with disabilities felt the pandemic greatly reduced their ability to do physical activity, compared with non-disabled people. A study commissioned by Activity Alliance, reveals that sport and physical activity among the UK's 14.1 million people with disabilities has significantly decreased and 39 per cent have done no activity at all during lockdown. Although overall figures look bleak, Superhero Series bucked the trend with its biggest year to date with two 'At-Home' events in partnership with Marvel, that saw a record 7,000 Superheroes and Sidekicks rise to the challenge
"The tremendous response to our 'At Home' events show how much opportunities like these are wanted and needed," says Superhero Series founder and Paralympian Sophia Warner. "We're super excited to be able to reunite with Marvel to give our growing community another incentive to get active and kickstart new sporting passions. Marvel and Superhero Series share the same belief that everyone has their own unique powers, and we cannot wait to see them unleashed!"
Entrants are given the freedom to set their own tracked challenge and can use any type of 'gadget or gismo', from powerchairs and adaptive bikes, to canoes and rollerblades to achieve their mission. To ensure the challenge is 100 percent accessible, they can also choose from a range of sensory challenges, such as popping bubbles and fun food tasting tests, or invent their own. Each sensory achievement is simply converted into kilometres towards their mission and will be able to chart their team's progress on a Super World Map portal.
Combining their powers of storytelling and event know-how, Marvel and the Superhero Series have designed an accessible challenge that encourages Superheroes all around the globe to find their own power. All will each receive a Super Race Pack with a medal, T-shirt and finish line tape to celebrate those all-important finishing moments. To help remove any barriers to entry, Marvel is covering the cost of the Super Race Packs and participants will only be asked to cover packaging and postage to enter (£5 for UK residents and £15 for overseas).
"Now more than ever Marvel hopes to inspire everyday Super Heroes to Find their Power. Through the power of our characters and storytelling we hope to welcome back previous Superhero Series participants, who perhaps may try something new for the event, and of course encourage more people to take part and join in the fun." Sara Hanson, Director of Enterprise Social Responsibility, The Walt Disney Company EMEA
To find out more and sign up for the Marvel Find your Power Challenge, head to www.superheroseries.co.uk
About Superhero Series
Superhero Series is the UK's only sports series dedicated to the nation's 14.1 million people with disabilities of any kind (Everyday Superheroes) and their family and friends (Sidekicks).
There are four annual events: Superhero Tri; At Home Superheroes; Winter Wonderwheels; an At Home Winter Wonderwheels
The success of the 2020 At Home events has highlighted the need for the Series to continue to offer these events alongside its regular events going forward, to ensure as many budding Superheroes as possible can take part.
The Series launched on 19 August 2017 with Superhero Tri and is now in its fifth year.
Every Superhero event features a 'celebrity race', where members of the public can win a chance to unite with high-profile Celebrity Team Captains from TV and sport.
Superheroes entering solo events must consider themselves to have a disability of any kind,
To enter the Superhero Series, at least one team should consider themselves to have a disability (of any kind) whether it be physical, intellectual, sensory or invisible. No classifications are needed.
The two live events are both based at the world-class 2012 Paralympic rowing venue Dorney Lake in Windsor.
The Series is founded and run by Paralympian Sophia Warner
Superhero Series wouldn't be possible without the support of its Super Partners: Marvel; Disney; My Sense; Pfizer; Irwin Mitchell, Aberdeen Standard Investments; Oracle; Quest; ReSport; and Rubies.
Disney's Social Purpose
As well as being a responsible business, Disney is dedicated to providing comfort and inspiration to those in need and creating inspiration and opportunity for those who want to improve their world. Disney's partnership with the Superhero Series is an example of how, working with others, we help build emotional resilience. Together we bring the power of our brand, stories and characters to inspire and create Moments that Matter for children and young people when they need it the most. In 2019, we created over 26,000 life-changing moments across Europe. For more information on our programmes and our long-standing charitable partners please visit www.thewaltdisneycompany.eu