Disney and Pixar's Soul, the all-new, critically-acclaimed feature film from Pixar Animation Studios and Explore Learning, the award-winning UK education brand, have collaborated on a campaign centred on themes from the film including individuality, the path of possibility and realising dreams and aspirations.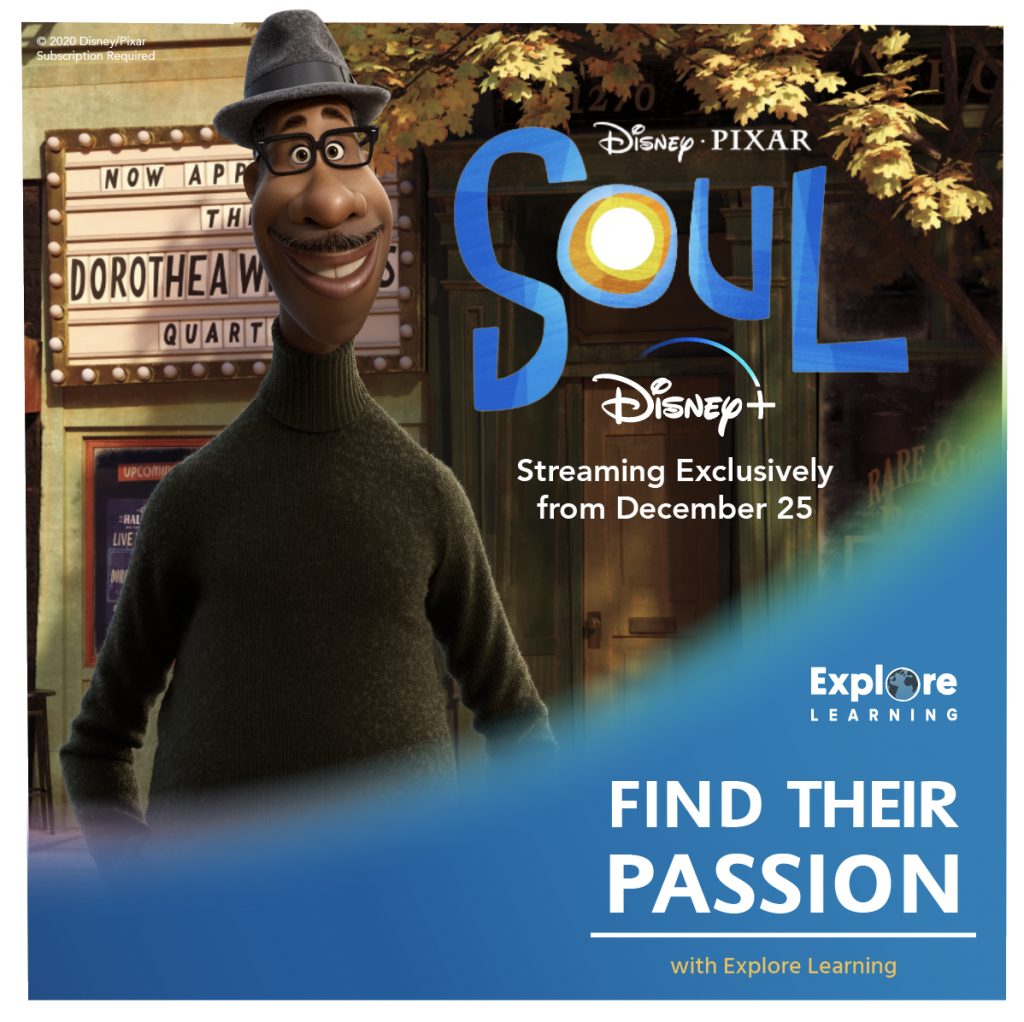 The campaign, which runs until January 31st, 2021, includes a 30" TVC to be broadcast across TV and BVOD (via ITV Hub), paid-social and in-centre communications and POS across Explore Learning's 103 centre network (including 42 Sainsbury's flagships). In addition, Explore Learning's website will see a bespoke online workshop on self-reflection and mentoring, as well as hosting a range of competitions and downloadable activities for their members linked to the key themes of the film.
Following your passions in life is one of the key themes of Disney and Pixar's Soul, available to stream exclusively on Disney+ on December 25 in the UK. In the film, lead character Joe (voice of Jamie Foxx), whose passion is for jazz, ends up leaving our world and taking a journey to The Great Before. This sees him encourage reluctant soul and human-in-waiting 22 (voice of Tina Fey) to seek out her own passion for life – and also help him get back to New York City in time to play the gig he's been waiting for his whole life.
Explore Learning's brand positioning and attributes have great synergies with Soul – centred around creating a better future and arming children with the educational tools they need to help develop their passions. Each child at Explore Learning is also provided with an individual pathway tailored to their specific needs and designed to help them uncover new strengths and overcome challenges.
Bill Mills, CEO of Explore Learning, said: "Within the creative of this campaign, we were looking to celebrate the key themes of Soul – and we are proud that we've been able to celebrate both individuality and self-discovery, values we hold dear at Explore Learning. By using key visuals and messaging seen in the film, the campaign is also able to showcase the synergies between both brands and how, as in Soul, Explore Learning can open the path of possibility to champion children to achieve their passions, no matter how big their dreams may seem. We truly believe that every child has the capacity to be the person they were born to be."
About SOUL:
What is it that makes you…YOU? This December, Pixar Animation Studios' all-new feature film Soul introduces Joe Gardner (voice of Jamie Foxx) – a middle-school band teacher who gets the chance of a lifetime to play at the best jazz club in town. But one small misstep takes him from the streets of New York City to The Great Before – a fantastical place where new souls get their personalities, quirks and interests before they go to Earth. Determined to return to his life, Joe teams up with a precocious soul, 22 (voice of Tina Fey), who has never understood the appeal of the human experience. As Joe desperately tries to show 22 what's great about living, he may just discover the answers to some of life's most important questions. Directed by Academy Award® winner Pete Docter (Inside Out, Up), co-directed by Kemp Powers (One Night in Miami) and produced by Academy Award nominee Dana Murray (Pixar short Lou). Available exclusively on Disney+ on the 25th December, 2020.
About Explore Learning:
Explore Learning provides maths and English tuition for 4 to 14 year olds 
All courses are aligned to the National Curriculum and Curriculum for Excellence and Explore Learning tutors select appropriate resources for each child to ensure they cover a combination of courses, enabling them to reach their potential in all areas.
All Explore centres are located in areas that are convenient for families to attend – these include centres within shopping centres such as Westfield London and Sainsbury's supermarkets. 
Online learning service Explore At Home offers a weekly, hour long, 1:1 online session with an Explore Learning tutor. This provides greater flexibility for parents – and 97% rate the quality of the service 'good' or 'excellent'.
Explore Learning was named the best Private Tuition Centre Operator in 2014, 2015 and 2016 and best Private Tutoring Company in 2019 in the Education Investor Awards, a One to Watch in The Sunday Times Virgin Fast Track 100, a finalist in the European Business Awards and named Best After School Tuition Provider in the 2019 Business Excellence Awards
For the last 7 years, Explore Learning has been named as one of the Sunday Times Best Companies to work for in the UK, placing 2nd in their top 25 best big companies lists for 2018 and 2019. Glassdoor also named Explore Learning the 20th Best Place to Work For in 2018.