In celebration of Pride 2022, Disney are putting on an array of exciting activations across Europe, Middle East and Africa, including The Walt Disney Company Pride Collection, a vibrant Disneyland Paris Pride event and a full schedule of events for Cast Members to celebrate their authentic selves.
The annual Pride collection, which returns for its fourth year, includes a colourful collection of merchandise this year from Disney, Pixar, Marvel and Star Wars. The collection, created by LGBTQIA+ employees and allies at The Walt Disney Company, serves as a reflection of their incredible contribution and place at the heart of the company. This year, all profits from the collection's sales across EMEA (until June 30 2022) will be donated towards various charity partners – ARELAS in Spain, BeLonG To Youth Services in Ireland, diversity Munchen e.V. in Germany, Famiglie Arcobaleno in Italy, MAG Jeunes LGBT+ in France and Diversity Role Models in the UK.
ARELAS | BeLonG To| diversity München e.V. | Famiglie Arcobaleno | MAG Jeunes LGBT+ | Diversity Role Models |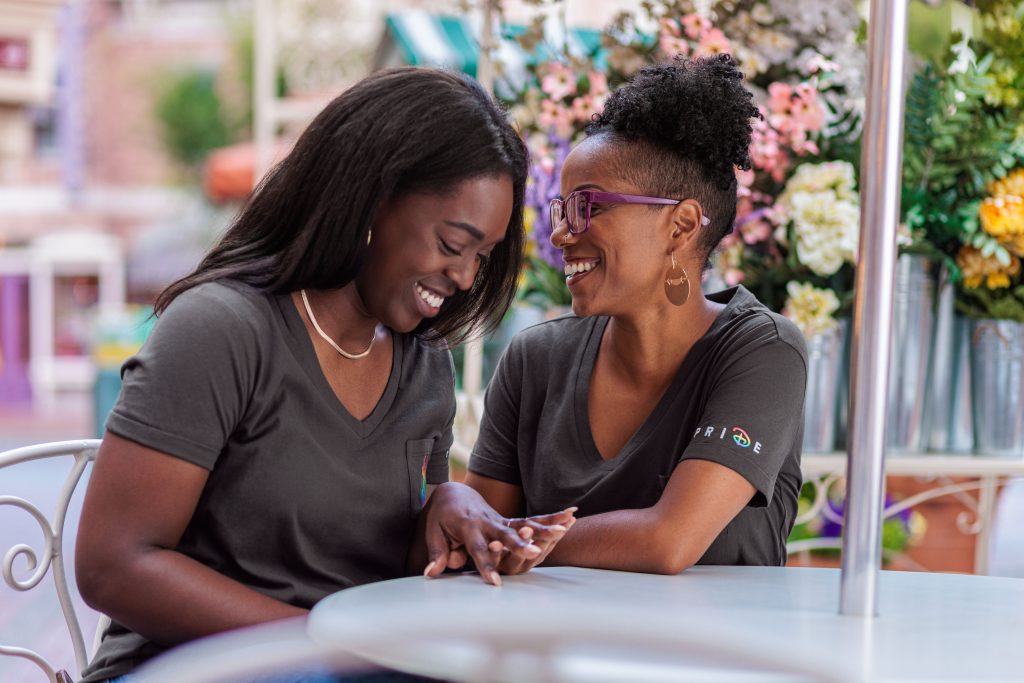 In the UK, the Disney PRIDE UK & Ireland resource group's partner charity, Diversity Role Models delivers amazing work going into schools to teach children and pupils about diversity and inclusion, with the help of volunteer "Role Models", with the aim of educating and preventing discriminatory bullying. They deliver workshops digitally and recruit Role Models of any gender, sexuality, race, religion and ability.
Meanwhile, at Disneyland Paris, on June 11, 2022, people will be celebrating diversity with a magical event, Disneyland Paris Pride, at the Walt Disney Studios Park. The event will include fun and vibrant live concerts from MIKA, Bilal Hassani and Becky Hill, a colourful parade and attractions open until 2am, as well as a dazzling dance party. Beneficiaries from the Same Sex Parents' Association (ADFH) and Association des Parents et Futurs Parents Gays et Lesbians (APGL) will be invited to take part in the evening parade.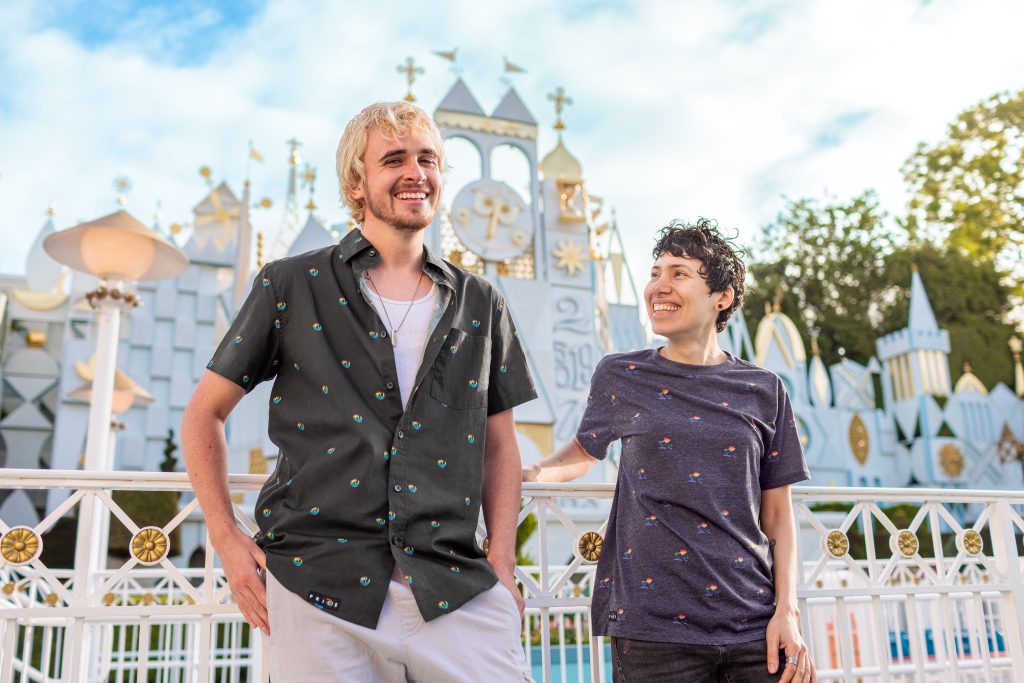 For the first time ever Disney+ has a dedicated Pride Collection which will be a permanent home of LGBTQIA+ stories on the service, staying up long after the last rainbow flags have come down, to represent and inspire Queer people across the community.
Disney+ is also getting involved in Pride celebrations, with the launch of a new sizzle. On 31 May, Disney+ and Disney Pride UK & Ireland combined for a special screening of Searchlight Pictures' Fire Island (available on Disney+ from 3 June), also showcasing upcoming content from the new dedicated Disney+ Pride Collection which was added to all Disney+ EMEA streaming services from 1 June. Some highlights included in the Disney+ Pride Collection are the third and final season of Star Original "Love, Victor", the TV spinoff from "Love, Simon" launches on June 15. The brand new Disney+ original, "Trevor: The Musical", a story of self-discovery, inspired by the 1995 Academy Award-winning Short film Trevor, which ultimately inspired the non-profit organisation The Trevor Project, will also be coming to the streaming service on 24 June.
In addition, a range of events are being hosted for Cast Members, offering them an opportunity to celebrate Pride Month and get involved with activism and allyship.
Together with the Comms team and executive leaders in the Benelux, we are preparing the necessary steps to work together with Workplacepride.org to make sure that the Disney Benelux offices are a safe space for the LGTBQAI+ community and to push the boundaries of LGBTQAI+ inclusion in the workplace. We are aiming to take the first step by the end of Pride Month this year. For information, please visit here.
To close off Pride Month in the Benelux, a physical meet-up for all Benelux employees in Amsterdam has been organsied, which will be screening the new Disney+ Original Movie Fire Island followed by drinks and a Bingo game hosted by Dragrace Holland contestant Sederginne.
Disney Pride GSA will be taking part in the Munich Pride Parade on July 16. This year's theme is 'Less Me, More We'.
In Spain, the cast of "The Lion King" and the Madrid Gay Chorus will perform a song from the show on Tuesday 28 June to pedestrians at the doors of the theatre in Gran Via.
About the Charities
The Disneyland Paris Pride Parade returns on June 11 with performances from international singers and a colourful parade.
ARELAS

ARELAS is a Spanish association that provides support for trans children and their families and that has been working for more than five years to achieve equal opportunities and rights for Spanish trans minors in all areas of public and private life. ARELAS fights to achieve a diverse society free from discrimination based on sexual identity. The association develops activities and programs promoting the participation of trans minors in social, political, cultural, sports and financial life. ARELAS offers information, advice, support and accompaniment to families and trans people who are without family support, creating networks and spaces for meeting and mutual support. ARELAS will use The Walt Disney Company's donation to develop training activities and offer support and advice to trans children, youth and their families.
Learn More
BeLonG To

BeLonG To Youth Services is the national organization for lesbian, gay, bisexual, transgender, and intersex (LGBTI+) young people in Ireland. Since 2003, BeLonG To has worked with LGBTI+ young people to create a world where they are equal, safe and valued in the diversity of their identities and experiences. BeLonG To's work spans people, policy and practice. The organization focuses on eliminating the isolation, discrimination and harassment faced by LGBTI+ young people through frontline youth work and vital support services. At a policy level, the organization works to promote equality for LGBTI+ young people to remove the structural and social barriers which result in exclusion, isolation, and marginalization. The Walt Disney Company's donation will assist BeLonG To in their efforts to help lower the barriers that create isolation for LGBTI+ young people.
Learn More
diversity München e.V.

Diversity München e.V. is an LGBTQ+ youth organization with a youth center based in Munich, Germany. The organization is self-governed by youth members, using a peer-to-peer approach to create a welcoming community through the youth centers and cafés for LGBTQ+ youth in Germany. The organization also hosts educational sessions on gender identity and sexual orientation in schools and youth centers, as well as events at their diversity Café. The Walt Disney Company's donation will help diversity München e.V. maintain these safe spaces for LGBTQ+ youth to meet friends and simply be themselves.
Learn More
Diversity Role Models

Diversity Role Models (DRM) is a U.K. LGBTQ+ education charity with a vision of a world where everybody embraces diversity and can thrive. DRM embeds inclusion and builds empathy through educational workshops in schools featuring personal, lived-experience stories from LGBTQ+ and ally role models. The workshops help students understand the impact of their language and actions, equipping them with the skills to challenge homophobic, biphobic and transphobic comments and bullying happening within the student body, driving a school culture shift to celebrating and embracing differences. To ensure sustained change, student workshops are supplemented by training staff, governors and parents/caretakers. The Walt Disney Company's donation will continue to help DRM's efforts in delivering their workshops into more schools.
Learn More
Famiglie Arcobaleno

Famiglie Arcobaleno, created by LGBT+ singles and parents, is an independent Italian association founded in March 2005. The organization stands against all forms of discrimination and advocates for LGBT+ parenting to be recognized in the Italian legal system and in society, to protect children and their loved ones and to reduce the stigma around LGBT+ parenting. The association aims to promote cultural, social and political changes around the topic of family, and facilitates dialogue between current parents or would-be LGBT+ parents, while equipping them with the tools needed to raise their children. The Walt Disney Company's donation will support Famiglie Arcobaleno in creating a culture of greater social inclusion for all types of families.
Learn More
MAG Jeunes LGBT+

MAG Jeunes LGBT+ is a non-profit organization for LGBTI+ youth aged 15 to 30 years old. It is the leading national LGBTI+ youth organization in France. The organization helps and guides young people in need through educational interventions in schools that raise awareness about LGBTI+ discrimination and promote respect for diversity and inclusion. It also organizes several leisure, cultural and sports activities, as well as big annual events such as the Grand Pride Ball of Paris. Established in 1985, MAG Jeunes LGBT+ provides LGBTI+ people with opportunities to live better and freely express their sexual orientation or gender identity. The organization fights against displays of rejection, hatred, violence and discrimination that LGBTI+ youth may face, and fights against homophobia, biphobia, transphobia and sexism. The Walt Disney Company is delighted to collaborate with Mag Jeunes LGBT+ to provide education for young people and more opportunities to live as their true selves.
Learn More