In an effort to empower more schools to embed physical education into their curriculums, Sporting Chance and Disney Africa collaborated to launch the Disney Healthy Happy Play programme in South Africa in 2016. The programme provides fun and creative tools for educators and students using Disney characters and stories as inspiration.
The Disney Happy Healthy Playprogramme consists of three components:
An Edu Module, brought to life with iconic characters such as Mickey Mouse, Minnie Mouse, Donald and Goofy, for Grade Three teachers and learners. The colourful, exciting workbooks focus on the importance of physical activity, how to participate in sport and play, and their subsequent positive effects. Included in the module is a focus on balanced eating and nutrition. Teachers are supplied with these workbooks and lesson plans, and learners with worksheets
Music-filled, fun morning assemblies at the various schools, in which the importance of physical activity is communicated in a lively and entertaining format to teachers and learners covering grades two to six
A physical education and sports challenge for teachers and learners in grades three to five. This aims to create excitement around being physically active with a focus on quality sports coaching and getting learners to play in a structured environment. It includes demonstrations of exercises and drills followed by mini games and matches in various types of sport. Schools receive Disney-themed physical education workbooks containing exercises and drills, and leave-behind sports kit to enable them to take the programme forward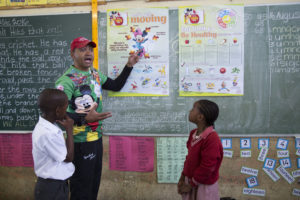 Schools will also receive continued support through a mentoring and monitoring system. Regular assessments of progress in implementing the programme will also be made. A database of the schools and educators will also be developed to create a network for sharing skills and ongoing development.
So far the programme has reached:
In 2016: 4 provinces, 30 schools, 16 550 learners, education modules delivered to 106 Grade 3 classes, up skilling of 184 educators.
In 2017: 4 provinces, 40 schools, over 20 000 learners, education modules delivered to 148 Grade 3 classes, up skilling of 233 educators.
The programme will be repeated again in 2018.