The magic of Disney•Pixar movies collection for a new screening room dedicated to hospitalised children.
A marzo 2017 The Walt Disney Company Italia ha sostenuto L'Ospedale Le Scotte di Siena con una donazione speciale. Nel corso del 2017 il reparto di pediatria dell'ospedale ha infatti potuto costruire ed aprire una sala cinema dedicata ai pazienti grazie al sostegno di PAM Panorama, importante partner retail di Disney Italia. Così, unendo le forze, The Walt Disney Company ha contribuito a questa iniziativa donando l'intera collezione in dvd dei film Disney•Pixar, fornendo così materiale per le proiezioni dedicate aipazienti. L'obiettivo della donazione è quello di portare intrattenimento ai bambini in cura e alle loro famiglie, rallegrando il tempo speso in ospedale grazie alla magia Disney.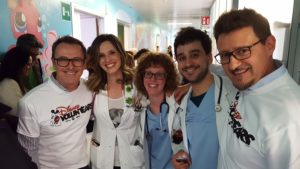 Il 21 marzo The Walt Disney Company Italia ha preso parte alla cerimonia di inaugurazione della sala cinema grazie ai Disney VoluntEARS, che hanno rappresentato la famiglia Disney alla presenza dei principali rappresentanti dell'ospedale e della città di Siena. I Disney VoluntEARS hanno personalmente consegnato la collezione dei film Disney•Pixar e passato del tempo con gli ospiti della cerimonia. Tra loro anche PIF, apprezzato presentatore tv, videomaker, conduttore radiofonico e attore.
Durante la cerimonia il Primario del reparto Pediatria dell'Ospedale Le Scotte ha ufficialmente ringraziato Disney Italia per la donazione e PIF ha espresso il suo apprezzamento per l'impegno di Disney in cause come questa e ha posato con i Disney VoluntEARS.
La notizia è stata coperta dai media locali.