Disney Pride UK & Ireland was founded in July 2016 as an Employee Resource Group for LGBT+ and ally employees. The group's mission is to encourage an open environment where employees can feel safe to be their authentic selves and supported to be who they are.
In the time span of only 16 months, Disney PRIDE UK&I has already marched in the 2017 London Pride Parade, marking Disney's first participation in a Pride Parade outside the US and resulting in the Best New Group award win. Amongst other achievements, the group hosts and curates an annual LGBT+ Film Festival, has participated in the Out and Equal Equality Institute alongside other major organisations to discuss LGBT equality in the workplace and designed a Rainbow Mickey Mouse pin exclusively for Disney Store Cast Members in multiple EMEA markets to wear in their uniforms (a global first!).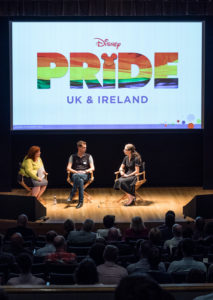 From a philanthropy perspective, the group has allied themselves with charities such as the Albert Kennedy Trust and Terrence Higgins Trust, with a combined £18,000 raised via fundraising events benefitting both charities. A new partnership with Diversity Role Models will be one of the focus of 2018.
The group's efforts were recognised with a nomination as a Top 10 LGBT+ Network at the prestigious British LGBT Awards in 2016.
Over the coming year Disney PRIDE intends to build on this success in the UK and Ireland by supporting the launch of similar Disney resource groups across locations in Europe. The group is continuously looking at ways to engage with employees and the community, and all LGBT+ staff and valued Allies are invited to join in via the Disney PRIDE UK&I Yammer Group.