Disney has announced its first collaboration with, Irish-based business Izzy Wheels, who fuses fashion and technology to create colourful wheelchair covers, helping to bridge the gap between disability and style. The covers, designed for people of all ages, will feature Disney's much-loved characters and will be available to buy in the UK and Ireland, from IzzyWheels.com.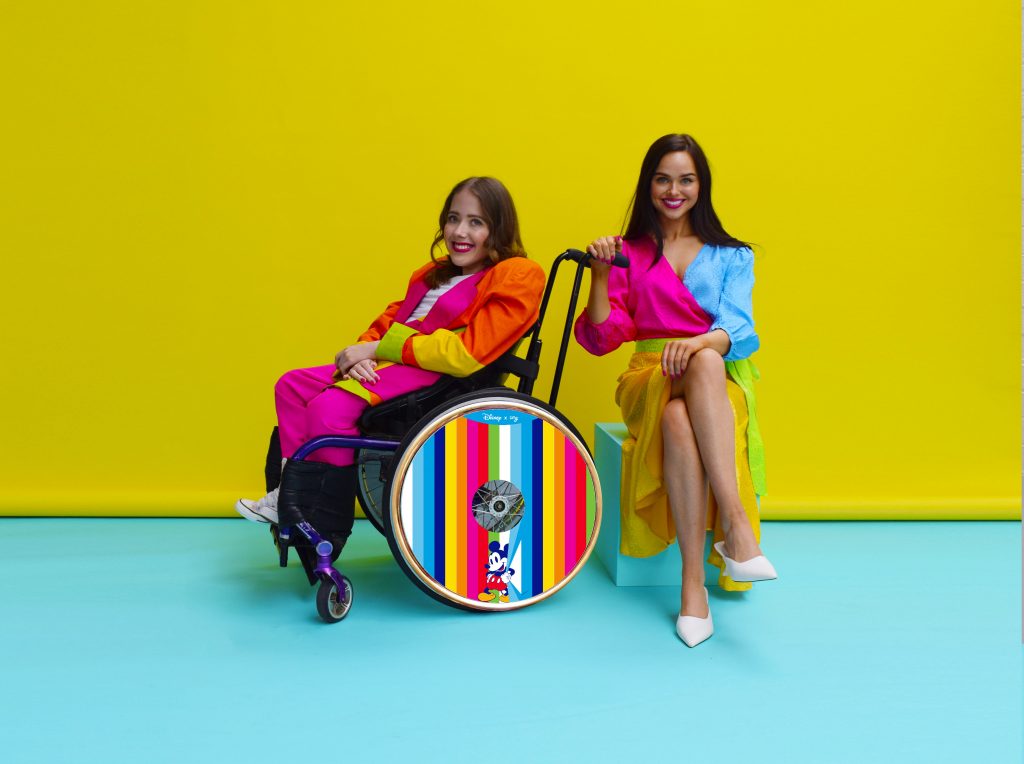 Known for their quirky sense of style and love of bold colour, Izzy Wheels was founded by sisters Ailbhe and Isabel Keane, originally from Galway, Ireland.
Inspired by her sister Izzy who was born with Spina Bifida and paralysed from her waist, the idea for the business came to Ailbhe in 2016. As a wheelchair user, Izzy believed her wheels symbolised freedom, but never felt her chair showcased her personality, motivating Ailbhe to create a range of eye-catching wheel covers for her sister's chair as her final year project in The National College of Art and Design.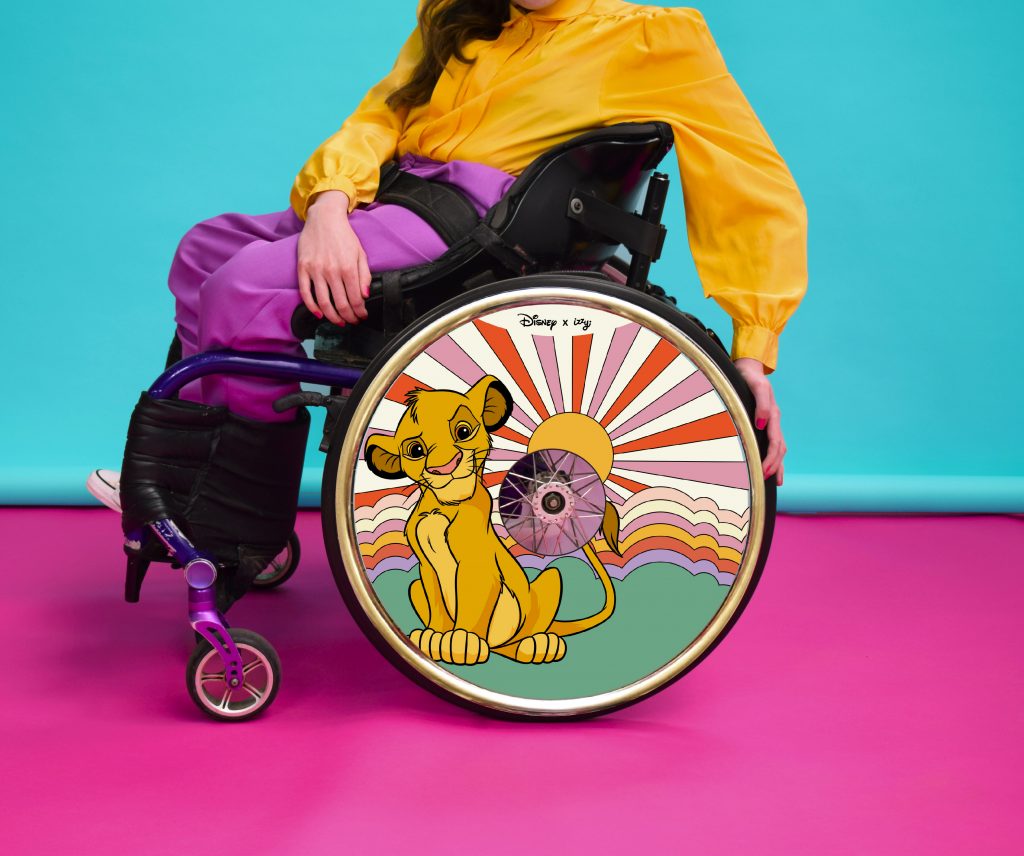 Ailbhe Keane, CEO and Creative Director of Izzy Wheels said: "I'm extremely excited about this special collaboration with Disney and what it means for Izzy Wheels. It's been my long time aim to challenge the perception of people who use wheelchairs and encourage people to look beyond the chair. I want people to feel that their wheelchair is an extension of their personal style and a form of self-expression, which is why Disney is a fantastic partner. We've grown up with its iconic story-telling and for many people, they have a very special connection to many of its beloved characters, and I can't wait to see customer reaction to the range."
Disney has collaborated with Izzy Wheels, granting the sister duo usage of its extensive catalogue of character artwork, from Disney, Pixar and Marvel. Available from Izzy Wheels website, customers will be able to shop the range which includes designs featuring the likes of fan favourites, Olaf from Disney's Frozen, Disney's Mickey and Minnie Mouse, Winnie the Pooh and Marvel's Spider-Man. All wheelchair covers are made to order by the small team and are created specifically for the customer, with each cover distinct with its stand-out colour pops and high gloss finishes.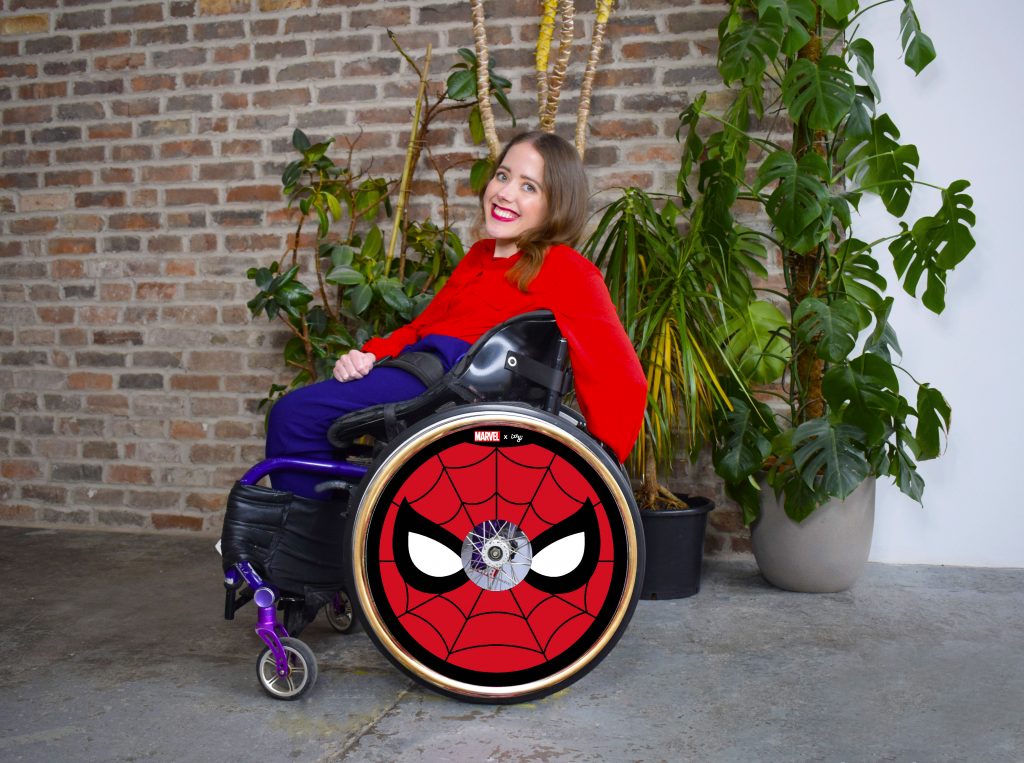 The new Disney and Izzy Wheels collection is available online at IzzyWheels.com, with 10% of proceeds from all Disney-themed wheelchair covers being donated to Whizz-Kidz, a charity focused on transforming the lives of disabled children across the UK.
With an estimated 1.2 million wheelchair users in the UK*, Izzy Wheels will also support Disney as a wish fulfilment partner for the UK and Ireland, helping Make-A-Wish® fulfil wishes for children, by designing customisable wheelchair covers.
Disney's Social Purpose
As well as being a responsible business, Disney is dedicated to providing comfort and inspiration to those in need and creating inspiration and opportunity for those who want to improve their world. Disney's partnership with Izzy Wheels is an example of how, through working with others, we help build emotional resilience. Together we bring the power of our brand, stories and characters to inspire and create Moments that Matter for children and those closest to them when they need it the most. In 2020, we created over 39,000 life-changing moments across Europe. For more information on our programmes and our long-standing charitable partners please visit www.thewaltdisneycompany.eu
About Disney Consumer Products, Games and Publishing
Disney Consumer Products, Games and Publishing (CPGP) brings the magic of The Walt Disney Company's brands and franchises—including Disney, Pixar, Marvel, Star Wars, National Geographic, and more—into the daily lives of families and fans around the world through products and experiences across more than 100 retail categories from toys and t-shirts to apps, books, video games, and more. A division of the Disney Parks, Experiences and Products segment, CPGP's global operations include: the world's largest licensing business, one of the biggest children's publishing brands, a leading licensor of interactive games across platforms, and the shopDisney e-commerce platform.