–MAC, Westfield, Liberty, The Lanesborough Hotel, De Beers, SINGER and Tom Davies come on board with innovative campaigns to support May 28 release-
Disney UK has collaborated with seven iconic brands including MAC, Westfield and Liberty ahead of the release of Disney's Cruella, the all-new live-action feature film about the rebellious early days of one of cinema's most notorious – and notoriously fashionable – villains, the legendary Cruella de Vil, starring Academy Award® winner Emma Stone. Cruella will release simultaneously in UK cinemas and on Disney+ with Premier Access for a one time additional fee, on Friday, May 28.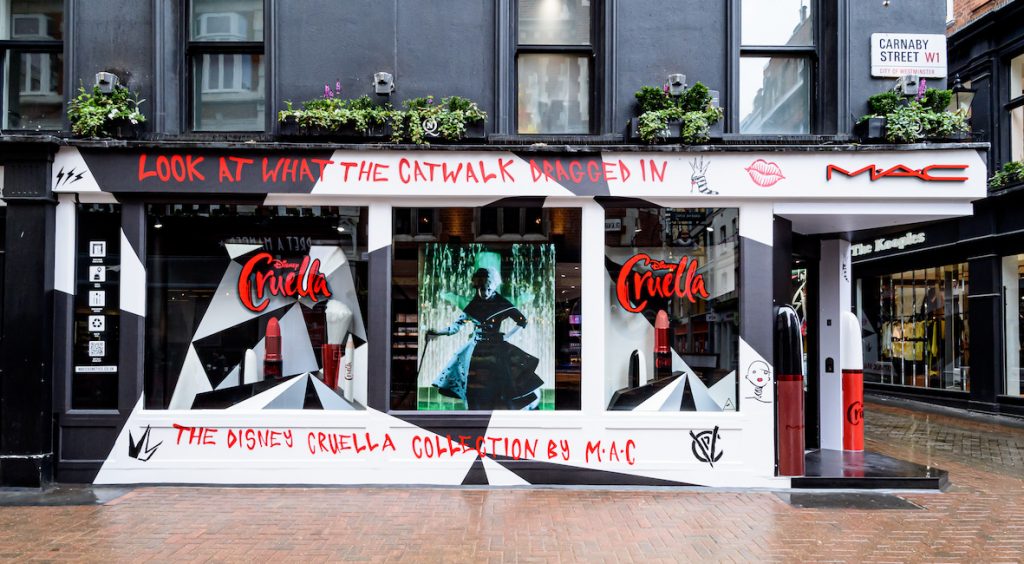 MAC is the exclusive make-up partner of the movie and its products were used on set by award-winning hair and make-up designer Nadia Stacey to create over 30 different looks for Emma Stone. Taking inspiration from 1970s London amidst the punk rock revolution, when the film is set, MAC has created a collection that is a range of punk-rock reds and haute metallic hues in exclusive two-toned packaging. The UK campaign also facilitated a MAC Carnaby Street Store takeover and a vast seeding and gifting programme with influencers. Nadia Stacey has also launched an online challenge encouraging artists and fans to share their Cruella-inspired looks for the chance to have them shared by MAC on Instagram.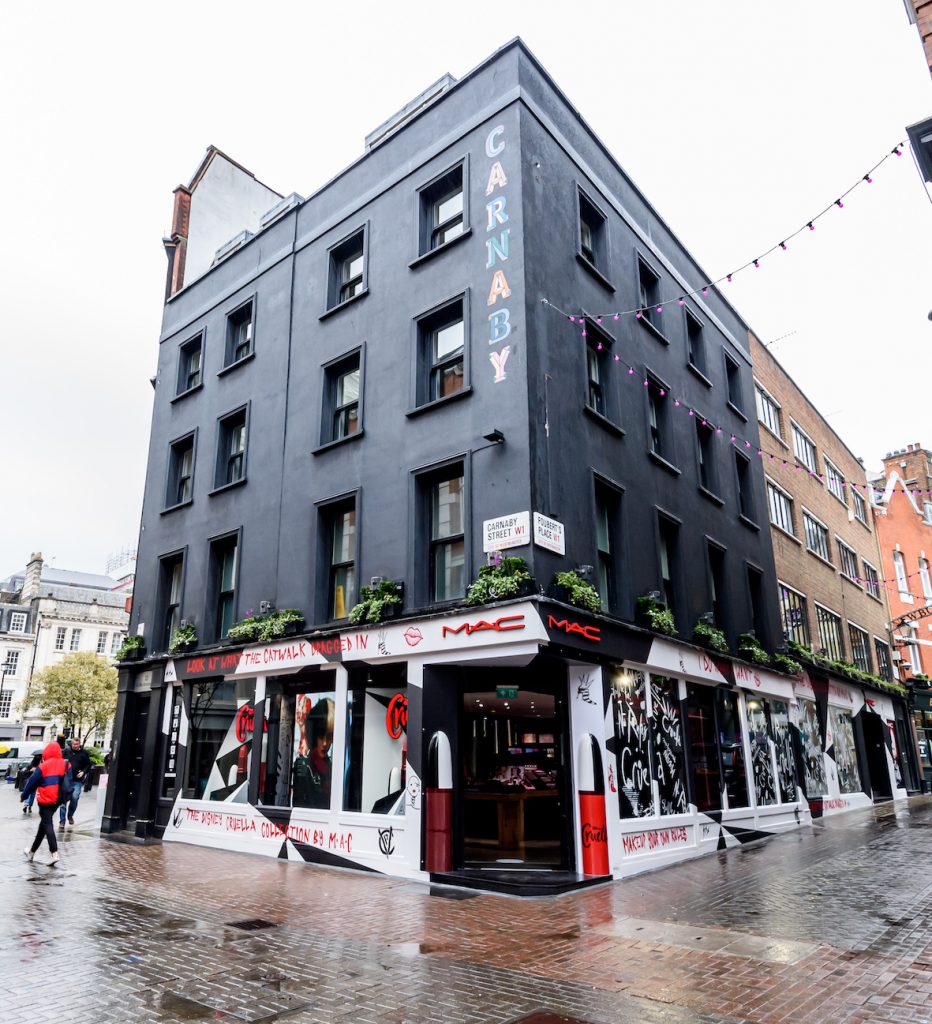 Westfield and Disney are kicking off a fashion revolution – inspired by Cruella, the rebellious style icon. Their Spring Summer 2021 fashion campaign will celebrate the movie by heroing Cruella across large format out-of-home, display and social, in addition to in-centre Cruella takeovers across digital media screens, escalator panels and POS. The collaboration also sees a digital-led activation with diverse content creators Dina Tokio, The Vivienne and Susie Lau, encouraging them and their fans to join the revolution and showcase their #InnerDeVil transformation – from drab to bad – using a bespoke black and white Cruella filter.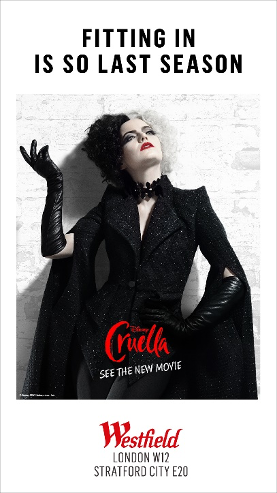 The iconic British department store Liberty, known for spotting and championing young designers at the start of their career, plays a key role in the movie and when Estella (young Cruella) lands her dream job at the store, her life changes forever. To celebrate the film's release, Liberty will be hosting a Cruella costume exhibit and will be running editorial about their involvement in the movie and the importance of 70s fashion, tying in with their own 70s edit in the store's Designer Vintage Department.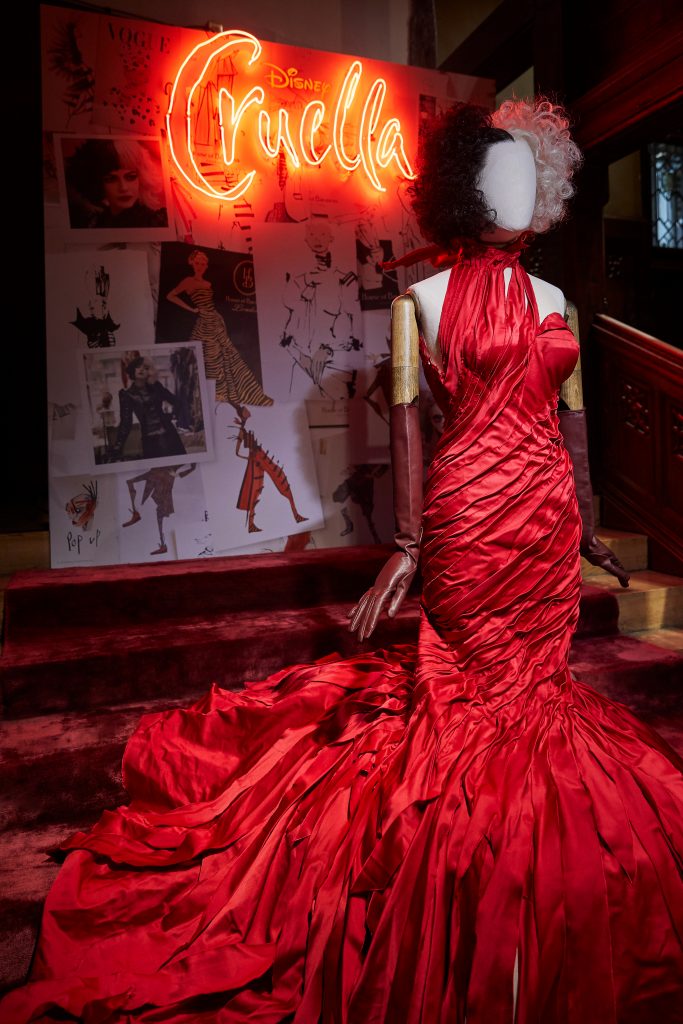 The Lanesborough Hotel, one of the oldest hotels in London, is putting on 'The Anti-Afternoon Tea' entitled 'It's a Little Bit Mad' – a distinctly modern take on the traditional English afternoon. The hotel's Head Pastry Chef, Kevin Miller, has crafted a limited-edition menu that will be revealed on May 28 timed to the release of the movie.
Charlotte Tudor, Vice President of Marketing, Walt Disney Studios EMEA, said: "It's been a privilege to have such an impeccably-designed and visually stunning movie to work with our brand partners on. Coupled with the film's rich British influences, it's enabled us to team up with several iconic brands to produce innovative and unique campaigns that really showcase the best of Cruella, reaching a variety of different audiences and playing a key role in the film's promotion, especially in the UK."
Other Cruella collaborations include:
De Beers Jewellers is Cruella's exclusive jewellery partner, which sees placement of a selection of De Beers signature high jewellery collections throughout the film on the character of fashion legend Baroness von Hellman.
Iconic sewing brand SINGER, which celebrates its 170th anniversary in 2021, has created a co-branded TVC featuring the machine from the movie and behind-the-scenes footage, promoted across digital, email, and owned websites. They will also be running competitions to win Singer sewing machines, including with key retail partners, Hobbycraft and Create and Craft.
British high-end designer Tom Davies is the exclusive eyewear partner for Cruella, providing 120 pairs of handmade glasses for various characters, including Cruella and Baroness von Hellman. In the UK, Tom will be displaying frames from the film in all his stores, including the Covent Garden, Sloane Square and Canary Wharf London stores. There is also an opportunity to design your own pair of glasses via a competition on his website https://www.tdtomdavies.com/competition.
ABOUT CRUELLA
Academy Award® winner Emma Stone ("La La Land") stars in Disney's "Cruella," an all-new live-action feature film about the rebellious early days of one of cinemas most notorious – and notoriously fashionable – villains, the legendary Cruella de Vil. "Cruella," which is set in 1970s London amidst the punk rock revolution, follows a young grifter named Estella, a clever and creative girl determined to make a name for herself with her designs. She befriends a pair of young thieves who appreciate her appetite for mischief, and together they are able to build a life for themselves on the London streets. One day, Estella's flair for fashion catches the eye of the Baroness von Hellman, a fashion legend who is devastatingly chic and terrifyingly haute, played by two-time Oscar® winner Emma Thompson ("Howards End," "Sense and Sensibility"). But their relationship sets in motion a course of events and revelations that will cause Estella to embrace her wicked side and become the raucous, fashionable and revenge-bent Cruella.
"Cruella" stars Emma Stone, Emma Thompson, Joel Fry, Paul Walter Hauser, Emily Beecham, Kirby Howell-Baptiste and Mark Strong. The film is directed by Craig Gillespie, with screenplay by Dana Fox and Tony McNamara, story by Aline Brosh McKenna and Kelly Marcel & Steve Zissis, based upon the novel "The One Hundred and One Dalmatians" by Dodie Smith. "Cruella" is produced by Andrew Gunn, Marc Platt and Kristin Burr, p.g.a., with Emma Stone, Michelle Wright, Jared LeBoff and Glenn Close serving as executive producers.
Cruella will release simultaneously in cinemas and on Disney+ with Premier Access for a one time additional fee on Friday, May 28.