Disney UK and Marvel gave disability sport a powerful boost this summer by signing up as sponsor for the Superhero Series, the UK's only mass participation event dedicated to people with disabilities.
On Saturday 17 August, the Superhero Tri event – the first of the Superhero Series' two annual sports events for people with any kind of disability – saw over 2,200 people aged 1-85 take part in the family fun for all event, at Dorney Lake, Windsor. All throughout the day Marvel sorytelling was incoproated along with the rallying cry, of 7,000 spectators, 'Find Your Power' to inspire and motivate participants.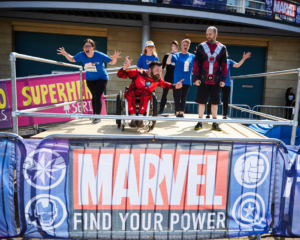 As the perfect partnership, for a day all about motivation and encouragement, Disney UK used the inspiration of its much-loved Marvel Super Heroes and storytelling to help participants unlock their inner super power with their families and friends.
Excitingly, performers from Marvel Universe LIVE! led a participants' "Power Up" session before the race began, with a surprise appearance from Spider-Man delighting children and fans alike.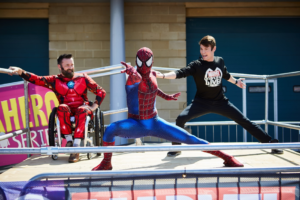 Meanwhile, Avengers Endgame played an active influence in the storytelling around the day, from Thors Hammer, to inspirational quotes from Super Hero favourites including Captain Marvel and Spider-Man, and giant LEGO® models of The Infinity Gauntlet, which all helped to make everyone feel like a true Super Hero.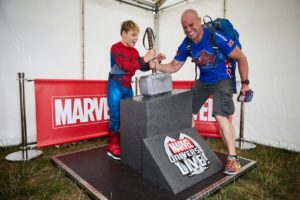 Marvel's sponsorship for the Superhero Series forms part of Marvel and Disney UK's wider Healthy Living initiative, which uses the power of popular characters to inspire children and families to be more active.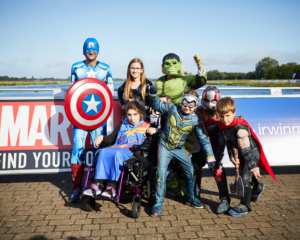 Marianthi O'Dwyer, Vice President, Healthy Living UK at The Walt Disney Company: "There are more than 13 million people with disabilities in the UK, but only around one in eight regularly take part in sport*. The Superhero Series aims to reduce barriers to entry into disabled sport, offering a great opportunity for families in the disabled community across the country to come together, get active and most of all, have fun. Marvel stories are all about ordinary humans finding their inner power, so we were delighted to play a role in this year's event and help make the day even more epic and inspiring for everyone involved."
As well as 18 waves of participants racing through the day, there was also a 'celebrity race' for members of the public who won the chance to unite and race with Celebrity Team Captains from TV and sport. This year's celebrity line-up included DJ and journalist Jordan Jarrett-Bryan; Paralympic equestrian champion Sophie Christiansen; Invictus Games athlete, JJ Chalmers; Paralympian and Wimbledon doubles champion, Alfie Hewett; and eight-time London Marathon winner and six-time Paralympic champion, David Weir.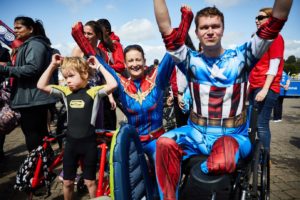 The Superhero Series is founded and run by Paralympian, Sophia Warner, who has been involved in disability sport for more than 25 years. Speaking of her reasons for launching the series, Sophia says: "I know first-hand what a hugely positive impact sport can have on a person's life. I believe everyone should have the chance to enjoy momentous and often life-changing sporting events. That's why when I retired from professional sport, I created the Superhero Series – sporting events designed especially for people with disabilities.
"I'm thrilled to have had Marvel on board as our headline sponsor for the Superhero Tri – having the support of such an iconic brand elevates the profile and importance of disability sport for the masses to a whole new level. I know the participants were inspired to dig even deeper and find their inner super power by the amazing story-telling and Marvel touches throughout the event."
As part of its ongoing commitment to support disability sport, Channel 4 filmed at the event, with Clare Balding hosting a 60-minute programme which broadcast one week later which peaked at TV 80.4k viewers, with many more catching up on All 4.