As Disneyland Paris starts its 25th Anniversary celebrations, take a look at what is in store for guests visiting Disneyland Paris in 2017.
Star Tours: The Adventures Continue: A new exciting experience for the 25th Anniversary of Disneyland Paris. Star Tours: The Adventures Continue has a number of surprises in store including new experiences, new destinations, new characters, a new pilot to take passengers on their journey and more. The attraction returns to in 2017 with an all-new, action-packed, epic intergalactic voyage, all set in 3D. Star Tours: The Adventures Continue will now give guests the opportunity to explore the galaxy far, far away through a selection of new journeys in 3D to that feature the arrival of a multitude of new scenes. With more than 70 different mission combinations from the Star Wars saga, Star Tours invites guests to enjoy an experience that is unique every flight. Who knows where the Force might take them.
Each destination offers its own surprises, with journeys through the worlds of Jakku, Naboo, Hoth, Tatooine, the Death Star and much more… Guests travel through the galaxy with a new pilot, C-3PO himself! Along the way, they will have the chance to meet heroes never encountered until now… but watch out for Darth Vader! Each scenario, journey and unexpected development is generated at random to ensure guests can enjoy an original experience every time.
With state-of-the-art technology, flight simulators, digital 3D, Audio-Animatronic characters, special effects in the cockpit and epic music, guests are fully immersed in the universe of the Star Wars saga covering episodes I to VII inclusive.
Get ready to join the Rebellion aboard a Starspeeder 1000. The ship, meant to be piloted by droid AC-38, is actually has C-3PO behind the controls at take-off. With many possibilities throughout each journey, including the chance to meet up with Princess Leia, Yoda, Boba Fett to name a few, one thing is certain: each flight will become a very memorable experience!
Star Tours: The Adventures Continue brings together more Star Wars heroes, villains, planets, battles, ships, and even more droids than ever before! The surprises just keep coming! Come to Discoveryland at Disneyland Park from 26 March 2017 and may the Force be with you!
Star Wars Hyperspace Mountain – After Star Tours: The Adventures Continue, which will be launched in March, the next eagerly anticipated event will be the opening of Star Wars Hyperspace Mountain.
From Spring 2017, Star Wars will take over a legendary space attraction that offers a unique experience. Space Mountain will transform into Star Wars Hyperspace Mountain. On this new adventure, guests will be able to join, in a brand new ambiance, the famous Rebel Alliance and enjoy an epic and sensational ride with total immersion in the Star Wars universe.
Guests will be briefed by the famous Admiral Ackbar. "The Rebel Alliance needs your help monitoring a threat above the planet Jakku…" With the Rebellion, blast off aboard a spaceship that crosses the galaxy at intense speed and enjoy the thrill of evading TIE fighters and an intimidating Star Destroyer.
Epic music from the Star Wars saga will provide the soundtrack to this new galactic adventure.The experience will also have amazing visuals with breath-taking special effects.
Disney Stars On Parade – A new journey to the land of imagination. Disneyland Park presents Disney Stars on Parade, a brand new Parade, which is more stunning than ever, featuring a plethora of Disney Characters to celebrate the 25th Anniversary in style. Mickey and Friends journey through Disney and Pixar masterpieces to the land of imagination. New floats, new music, new costumes and never-before-seen choreography: the new Parade will dazzle guests in a whirlwind of joy, laughter, emotions and colour. It is now more than ever the highlight of any visit to Disneyland Park.
"In Disney Stars on Parade, we follow Mickey and Friends on a journey of discovery to the land of imagination" explains Emmanuel Lenormand, the Show Director. "We started with the words that are most frequently used by our guests when they talk about Disneyland Paris. This helped us to create a story with eight chapters, and as many emotions. We then associated these emotions with major Disney and Pixar animated films that have proved a huge hit with the public". Featuring many Disney Characters and artists, the new Parade incorporates stunning, unique floats with vibrant colours and movements to surprise and delight our guests.
The Starlit Princess Waltz – In front of Sleeping Beauty Castle, a real-life magical ball that will make dreams come true for princesses of all ages. With the wave of a magic wand, Tinker Bell has transformed the Royal Castle Stage, with delicate latticework arches, into a starlit ballroom where the Disney Princesses waltz. Aurora, Ariel, Belle, Snow White, Cinderella, Jasmine, Rapunzel and Tiana, dressed in magnificent ball gowns, to the sound of a romantic fanfare, create a magical moment against the unique backdrop of Sleeping Beauty Castle and its spectacular fountains."One of the songs in the show is called "Every Girl can be A Princess" and, as well as the eight princesses featured on stage, we also wanted all the little girls in the audience to feel like princesses throughout this 25th Anniversary year", smiles Amanda Cahen, the Show Director. The Starlit Princess Waltz will take place several times a day at the Royal Castle Stage in Disneyland Park.
Mickey presents "Happy Anniversary Disneyland Paris" – Dressed in his smartest outfit, a blue and silver dinner jacket in the colours of the 25th Anniversary year, Mickey has prepared a grand surprise in front of Sleeping Beauty Castle, ceremoniously assembling his friends for an unforgettable anniversary celebration. Appearing at the top of the steps of a sparkling crystal castle to the sound of lively music, Mickey invites his friends, guests included, to join him in a resounding musical chorus of "Happy Anniversary Disneyland Paris"! A dazzling show worthy of a unique anniversary celebration!
"It is rare that I get the opportunity to direct so many Disney Characters in one show" reveals Emmanuel Lenormand, the Show Director. "It is essential to create a big picture, like in a musical, while respecting the personality of each Character: no one can make a grand entrance quite like Mickey!".
The Starlit Princess Waltz and Mickey presents "Happy Anniversary Disneyland Paris" will take place several times a day at the Royal Castle Stage in Disneyland Park.
Disney Illuminations – A New Show To Mark The 25th Anniversary Of Disneyland Paris.
Disneyland Park presents Disney Illuminations, a new night-time show, specially created to celebrate the 25th Anniversary of Disneyland Paris. This show, which features cutting-edge technology including projections, light effects, water jets, special effects and fireworks, transforms Sleeping Beauty Castle on a daily basis. Every evening, Mickey takes us on a journey to a land of dreams, accompanied by the heroes of animated masterpieces. For the first time, the show also features the projection of live action film images.
Mickey takes us on a journey to the land of Disney and Pixar films. Stepping straight out of Walt
Disney's imagination, Mickey is the perfect guide for this dreamlike journey. "I like to revisit the roots of this slightly awkward but big-hearted hero; this is a part of childhood that we all share. That is why it is so easy for us to identify with Him", explains Katy Harris, the Show Director. In Disney Illuminations, it is therefore up to the famous mouse to open the doors and lead us to the land of dreams…
"In this show, we have been guided by the major Disney and Pixar classics from the last 25 years" reveals Katy Harris.
Without disclosing the story behind the show, we will firstly see our hero seeking love under the stars in the savannah from The Lion King, diving under the ocean accompanied by the heroes of The Little Mermaid and surfing the East Australian current, as seen in Finding Nemo. No procession of major animated films would be complete without a stormy appearance from Frozen! The show features many spectacular musical sequences with a mixture of romance and action that will amaze guests of all ages.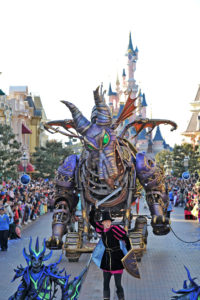 "To mark the occasion of the 25th Anniversary, for the first time, we have been able to incorporate images from live action films in this night-time show at Disneyland Park," says Katy Harris, with pride. As such, guests will be able to witness an incredible naval battle, including cannon shots fired by the Black Pearl, the legendary ship of Jack Sparrow. "This innovation was required for a project which is also linked to our history. Indeed, this is the year that the new Pirates of the Caribbean film will be released in cinemas and the 50th anniversary of the Pirates of the Caribbean attraction, which was the inspiration behind the film".
Finally, stars will also be on the agenda with a sequence of live action images which will delight all Star Wars fans. Will the Millennium Falcon, TIE Fighters and Stormtroopers feature in the show? As evasive as a Jedi Master, Katy Harris simply states that an "epic battle is in danger of engulfing the entire galaxy"…
State-of-the-art technology transforms Sleeping Beauty castle into a screen for every dream "Walt Disney used to say that all of Disneyland was a stage and this saying still inspires us today," explains Katy Harris.
"Consequently, at Disneyland Paris shows do not only take place in theatres, beautiful though they are, but everywhere. And in Disney Illuminations, Sleeping Beauty Castle is not just scenery, "it is the screen on which we project our wildest dreams… and share them with guests".
"Mapping", the technology that allows the projection of images or video onto large surfaces, was a revolution even five years ago. Today, "it continues to evolve and allows us to go further in creating real-life, moving light frescoes on the Castle". Sounds, lights, laser effects, fireworks and water jets: all possible techniques have been used by the Entertainment and Imagineering teams. John Lasseter, the visionary behind the recent Disney and Pixar successes, often states that "art challenges technology and technology inspires art". And Katy Harris concludes: "We remain storytellers, first and foremost".
Every evening, Disney Illuminations provides a spectacular end to a day spent in Disneyland Park during its 25th Anniversary year. And, together with Mickey and Friends, continues to weave the fabric from which dreams are made. This will no doubt be an opportunity not to be missed! Disneyland Paris 25th Anniversary – It's Time to Sparkle.