On January 29th, in celebration of the 2020 Pièces Jaunes campaign, Disneyland Paris welcomed 300 children and their families from 18 hospitals and establishments supported by the Fondation Hôpitaux de Paris – Hôpitaux de France.
This year, children from various French hospitals were able to create unforgettable Moments that Matter throughout the special-daylong event, by being part of the magic at Disneyland Paris. Present on the day was Brigitte Macron, Chairwoman of the Fondation Hôpitaux de Paris – Hôpitaux de France and Didier Deschamps, Godfather of the 2020 Pièces Jaunes campaign.
The children and their families were among some of the first to see the brand-new Frozen Celebration, starring Anna, Elsa and Olaf and featuring some of the music from the hit film. They also had a chance to ride a few of their favourite attractions like, Big Thunder Mountain, Peter Pan's Flight and Autopia.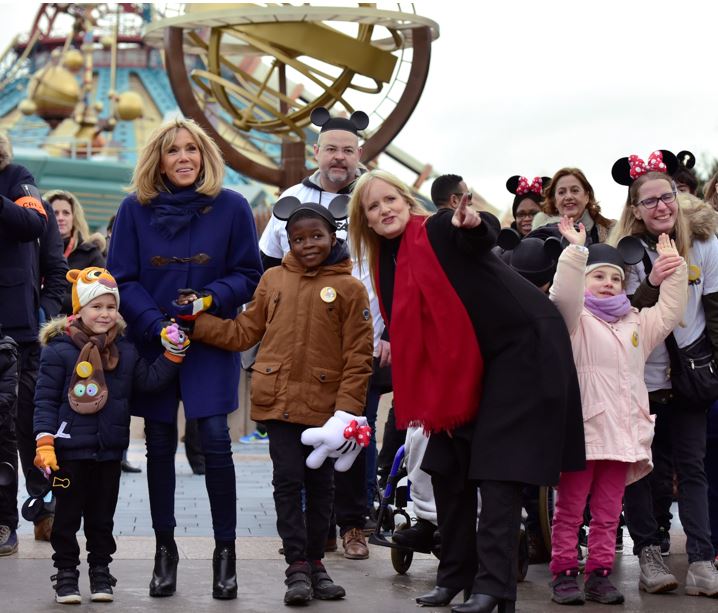 Over 100 Disney VoluntEARS also led workshops where the children could let their imaginations run wild in designing the hospital of tomorrow, while also painting giant Disney-themed frescos to be hung on the walls of the hospital paediatric wards.
The magical visit continued with a private concert in the heart of Disneyland Park with special performances by Vianney, Joyce Jonathan, Kendji Girac, Christophe Maé, Boulevard des Airs and Claudio Capéo. At the end of the show, the artists met with the children for an autograph signing and photo session before joining Mickey and Minnie.
Over the past 27 years, Disneyland Paris has worked with the foundation on its well-known campaign, contributing in a variety of ways including, the traditional coin donations from Cast Members, the donation of coins tossed by guests into fountains throughout the resort and visiting children in many of the hospitals with Disney VoluntEARS and Disney characters.
President of Disneyland Paris Natacha Rafalski said "Disneyland Paris has been a partner of the Pièces Jaunes campaign for 27 years. Today, we celebrate that longstanding collaboration. "Bringing joy and magic to children and their families is a fundamental mission of ours, and we are proud to work with the Foundation Hôpitaux de Paris – Hôpitaux de France to bring a little Disney magic to a child's day."
The campaign support's Disney's Global social commitment: to provide comfort and inspiration to children, helping build emotional resilience when it's needed the most. Together with our partners we bring the power of our experiences, stories and characters to inspire and create Moments that Matter for children and those closest to them, when they need it the most.
Disney VoluntEARS: Bringing Magic To Those Who Need It Most
Since 1991, more than 40,000 hospitalised children have had the support of the Disney VoluntEARS of Disneyland Paris. Throughout the year in 2020, Disney VoluntEARS will continue accompanying the foundation to bring smiles to hospitalised children.