On November 4th, the FA's Shooting Stars initiative launched in 1,200 primary schools across England to inspire girls to get active and learn the fundamentals of football. The initiative, inspired by Disney storytelling and produced in collaboration with the Youth Sport Trust and the National Literacy Trust, takes the form of two programmes; The FA's Shooting Stars Active Play Through Storytelling inspired by Disney and The FA's Shooting Stars Girls' Football Club inspired by Disney.
The FA's Shooting Stars Active Play Through Storytelling inspired by Disney. This programme uses the storytelling from Disney and Pixar's 2018 smash-hit animated superhero movie Incredibles 2 and the classic 1992 animated version of Disney's Aladdin. In particular, this programme aims to capture Key Stage 1 girls' imaginations whilst developing their fundamental movement and speaking and listening skills. Developed in partnership with the National Literacy Trust, these sessions, which intend to be the start of a child's journey into sport, also allow the girls the opportunity to achieve the learning objectives which are based on the national curriculum for Key Stage 1 English and PE.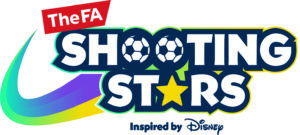 The FA's Shooting Stars Girls' Football Club inspired by Disney. These sessions see Key Stage 2 girls using the storytelling inspiration of the animated Disney XD TV series Guardians of the Galaxy to advance their sporting journey into a girls only after school club, where they will learn basic footballing skills whilst engaging in imaginative play.
The FA's Shooting Stars initiative is available in over 1,200 primary schools in the first year of the programme but has ambitions to increase the number of schools taking part year-on-year. It is an integral part of the FA's 'Gameplan for Growth' strategy for women's and girls' football, where they have the ambition of doubling participation by 2020.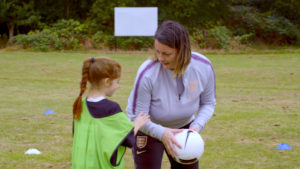 Physical and online training resources have been created for the 1,200 schools taking part in the programme. The online resources, hosted at www.girlsfootballinschools.org, additionally allows every school across England to sign up and deliver the two Shooting Stars training programmes. The initiative also plans to regularly launch new programmes using different Disney characters and storytelling.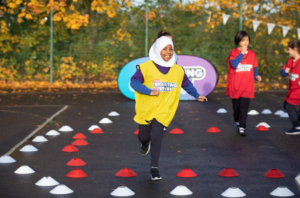 Sue Campbell, Director of Women's Football at the FA, said: "By engaging in the magic of Disney storytelling, the Shooting Stars programme allows girls to develop holistically whilst falling in love with sport, motivating them to participate in physical activity and football. These sessions are engaging, help girls develop their confidence and leadership skills and most importantly inspire them to get active at school and at home. Hopefully, this provides a positive starting point to a girls journey in football whereby she can go on to attend a fun football offer with Wildcats or a competitive offer in a mini soccer club."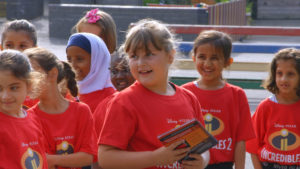 During the pilot phase of the programme, research conducted by the FA and the Youth Sport Trust found that the Disney resources were engaging, memorable and familiar to the girls participating whilst practitioners felt that the Disney element added significantly to the resource and supported their delivery.
The research also found that extending the sessions beyond football enabled participants to develop a wider skillset and led to self-reported improvements from girls, coaches and parents, including:
Physical: Girls get active and enjoy rising to the challenge week on week. Parents and teachers reported sessions are physically tiring
Social: Opportunity to work with friends as well as girls outside of friendship group, in turn improving communication and teamwork skills
Technical: Coaches reported improvement week on week of technical skills during the drills
Psychological: Girls self-reported an improvement in their confidence levels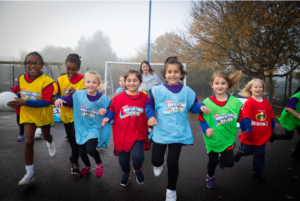 Ali Oliver, CEO at the Youth Sport Trust, commented: "We're delighted to be working with the FA to deliver this programme to schools across the country. Our research has already shown us that girls who participate in the Shooting Stars initiative are working harder and have increased heart rates because of their engagement in the stories and the inspiration of the Disney characters. The sessions also extend the impact of PE lessons beyond the development of physical skills by also providing an opportunity to develop social skills such as team work, communication, confidence, and creativity, within a physically active setting."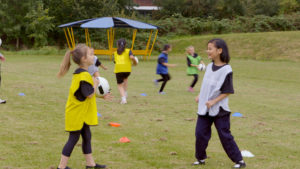 Karen Carney, the ex-England midfielder with 144 caps and four World Cup appearances, said: "It's great to see initiatives like this launching and becoming more established in schools across the country, something I didn't have as a kid growing up. Football provides you with so many benefits – from teamwork and building friendships to physical literacy and confidence, and this programme will really help instil that into the girls who take part. The more girls we can get participating and fall in love with football, the better and who knows, this programme may even unearth Lionesses of the future.."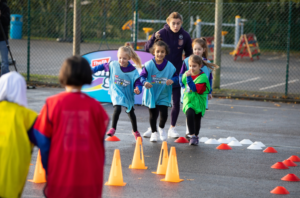 Marianthi O'Dwyer, Head of Healthy Living at Disney, added: "Disney is committed to supporting the future generation to lead healthier lifestyles and we are in a unique position to inspire families and children to be more active through our characters and the stories they tell. So we're very proud that through our partnership with the FA and the Shooting Stars programme, our storytelling from Incredibles 2, Aladdin and Guardians of the Galaxy is acting as a force for good to encourage girls to get active, build their confidence and participate in playing football."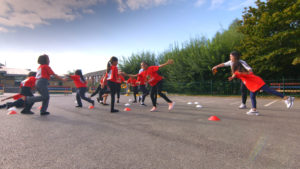 Jonathan Douglas, Chief Executive of the National Literacy Trust, said: "By teaming up with The FA and the Youth Sport Trust, we can use the power of stories, football and the Disney characters that kids love to really make a positive difference to girls' lives. The Shooting Stars programme is a fantastic way to support girls' learning and literacy development. The online resources also launching today mean that every school and every teacher that wants to deliver the programme now can, bringing the magic of active storytelling to thousands of girls across the country."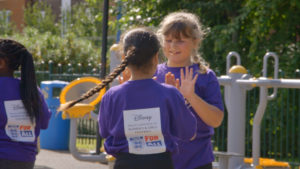 In the UK, Disney's long-standing Healthy Living Commitment has seen it use its storytelling to get the whole family more active, and aims to educate and inspire children about healthy eating. This has seen it team up with various partners on inspirational campaigns with Swim England, Sport England's This Girl Can and Public Health England (PHE). PHE's "10 Minute Shake Up" campaign, now in its sixth year, has seen over 2 million kids get active with over 100 million extra minutes of physical activity being completed. The FA and Disney also has a long-term partnership together that aims to increase the role of football in girls' lives up and down the country.