Fans who dreamed of designing a Star Wars droid got their chance in the "Build My Droid" Contest, an initiative launched by Star Wars: Force for Change and FIRST  to inspire the next generation of heroes and innovators in science, technology, engineering, math and creative arts.
The global robotics community, FIRST  teamed up with Lucasfilm's Star Wars: Force for Change, to give fans and artists ages 16 and up a chance to design a droid that could be included in a future story set in the Star Wars galaxy.
The contest launched on October 22nd, 2019. Eligible countries included; United States and Canada, excluding Quebec, Great Britain (England, Scotland, Wales Only), France, Spain, Belgium, Japan and Mexico.
The grand prize winner Camille Manet was invited to the film's world premiere in on December 17th and her KP-1 droid will be brought to life by Lucasfilm and included in an upcoming Star Wars project. Runners up were Raye Yesaki and Ana Gabriela Lopez Espinosa.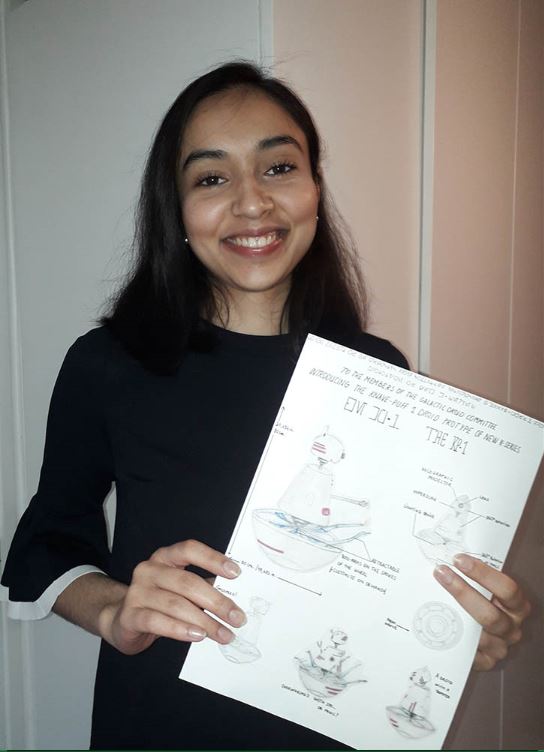 Winners were chosen by a panel of judges including Star Wars creature and special make-up effects supervisor Neal Scanlan; Lucasfilm vice president, creative producer John Swartz; Lucasfilm senior creative executive Pablo Hidalgo; celebrity Star Wars fan and STEM advocate Mayim Bialik; and Dean Kamen, FIRST founder and inventor of the LUKE Arm — a revolutionary prosthesis inspired by Luke Skywalker.
"The ingenuity and creativity of Star Wars fans has always amazed me," says Lucasfilm President Kathleen Kennedy. "When FIRST teamed up with Force for Change, we saw a great opportunity to both highlight their incredible talent and reaffirm the importance of STEM programs. I can't wait to see what designs they come up with."
The partnership is part of the Walt Disney Company's global and local commitment that delivers comfort to those in need and creates inspiration and opportunity to those who want to improve their world.
FIRST inspires innovation and leadership through engaging, hands-on robotics challenges developed to ignite curiosity and passion in students in grade K-12. The support of FIRST  is part of The Walt Disney Company's commitment to provide inspiration and opportunity to the next generation of innovators. The 2020 FIRST RISE season is powered by Star Wars: Force for Change. Registration is open for all FIRST programs. Learn more at firstinspires.org/firstrise.
About Star Wars: Force for Change
Star Wars: Force for Change aims to create transformation and change in the lives of kids by helping to bridge the STEM skills gap, utilizing the fun and intrigue of Star Wars storytelling to inspire innovation, help build confidence and ignite curiosity. In doing so, Star Wars: Force for Change hopes to embolden and motivate the next generation of heroes and innovators, while also empowering the Star Wars fan community to use their fandom for good.
About FIRST®
Accomplished inventor Dean Kamen founded FIRST® (For Inspiration and Recognition of Science and Technology) in 1989 to inspire an appreciation of science and technology in young people. Based in Manchester, N.H., FIRST designs accessible, innovative programs to build self-confidence, knowledge, and life skills while motivating young people to pursue opportunities in science, technology, and engineering. With support from over 200 of the Fortune 500 companies and more than $80 million in college scholarships, the not-for-profit organization hosts the FIRST® Robotics Competition for students in Grades 9-12; FIRST® Tech Challenge for Grades 7-12; FIRST® LEGO® League for Grades 4-8; and FIRST® LEGO® League Jr. for Grades K-4. Gracious Professionalism® is a way of doing things that encourages high-quality work, emphasizes the value of others, and respects individuals and the community. To learn more about FIRST, go to www.firstinspires.org.