Disney is giving more than $2M worth of support to Make-A-Wish® International and their network of global Affiliates as part of the campaign, a further contribution to our ongoing 40 year global partnership
16 Make-A-Wish® Affiliates to benefit from the campaign across Europe, Middle East and Africa alongside other international Affiliates
Proceeds from the new charity single – original advert soundtrack 'Love Runs Deeper' performed by two-time Grammy Award-winning jazz musician Gregory Porter, to be donated to Make-A-Wish® International
Make-A-Wish® UK granted a very special wish for 13-year-old Dylan in the creation of the advert, whose wish was to be an animator
FROM OUR FAMILY TO YOURS CHRISTMAS CAMPAIGN | 'LOVE RUNS DEEPER' | 'LOVE RUNS DEEPER' TERMS AND CONDITIONS | MAKING WISHES COME TRUE | GIFT A WISH | CROSS-EMEA SUPPORT FOR MAKE-A-WISH THROUGH 'FROM OUR FAMILY TO YOURS' | MORE ABOUT THE DISNEY AND MAKE-A-WISH PARTNERSHIP |
FROM OUR FAMILY TO YOURS CHRISTMAS CAMPAIGN
Disney has released a magical new festive advert to mark the start of the 2021 Festive season. "The Stepdad" is a three-minute animated tale about family togetherness and the power of storytelling.
This campaign once again supports long-standing partner, Make-A-Wish, helping the charity to create life-changing wishes for children with serious illnesses, that can be an important part of the healing process. Since 1980, Disney has helped Make-A-Wish® grant more than 145,000 life-changing wishes around the world – bringing light, hope and joy to wish children and their families.
A sequel to last year's 'Lola' Christmas campaign, which celebrated festive traditions passed down generations, the short film premiered on Wednesday 3rd November 2021, across TV and Digital plus​ Disney's own channels in 45 countries across Europe, North America, South America, and Asia. It forms part of Disney's festive retail campaign, 'From Our Family To Yours' in support of Make-A-Wish.
Following Disney's 2020 debut consumer products Christmas advert, which secured more than 106 million views, this year's instalment features a grown-up Nicole, the granddaughter from 'Lola', and her two children Max and Ella, as new step-dad Mike moves into their family home.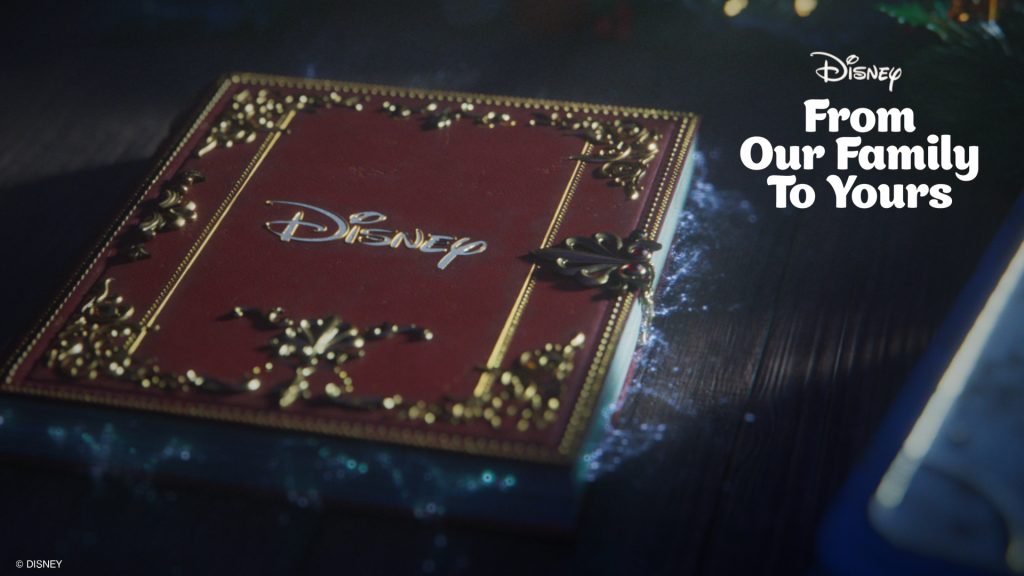 At the heart of the story is a very special storybook – a precious item belonging to son Max from his birth father. The book celebrates how the power of storytelling can deepen family bonds, and the magic that reading together creates as stories from Disney and Pixar lift off from the pages igniting the family's shared imagination and wonder.
Viewers will see the family navigate an emotive journey as they enjoy combining existing festive traditions with new ones in the run up to Christmas.

Fans will also be able to purchase a Skating Minnie Mouse soft toy and Journal inspired by the ad, exclusively from shopDisney.
Over 200 additional retailers and brands are supporting Disney's 'From Our Family To Yours' 2021 campaign, including Pandora, Primark and Vodafone who will also have their very own animated stories featuring Mike, Nicole, Max and Ella, which can be seen on their own channels. Pandora, Primark and Vodafone's spots will go live throughout November.
The advert was developed and produced by Disney EMEA's in-house creative team, led by Angela Affinita, Director of Brand Marketing and Creative, in partnership with Flux Animation Studios in New Zealand, and story consultants, POCC.
Tasia Filippatos, SVP Disney EMEA said: "We're delighted to once again support our long term charity partner Make-A-Wish through our Holiday campaign. Reading together can be a truly magical experience and our advert celebrates this age-old tradition and the wonder and imagination it inspires. We hope the story will resonate with anyone who has seen the magic 'lift off the pages' of a book through the eyes of a child."
LOVE RUNS DEEPER
Double Grammy Award winner Gregory Porter performs an emotive rendition of original track 'Love Runs Deeper', which provides a musical narrative to the film through the eyes of Mike. 100% of the proceeds received by Decca Records and Disney in connection with digital sales will be donated to Make-A-Wish International who support their international Affiliates.
Written by LA-based songwriters PARKWILD, the track also features CHERISE, a member of Tomorrow's Warriors, which is an organisation committed to increasing diversity and equality across the arts through jazz music.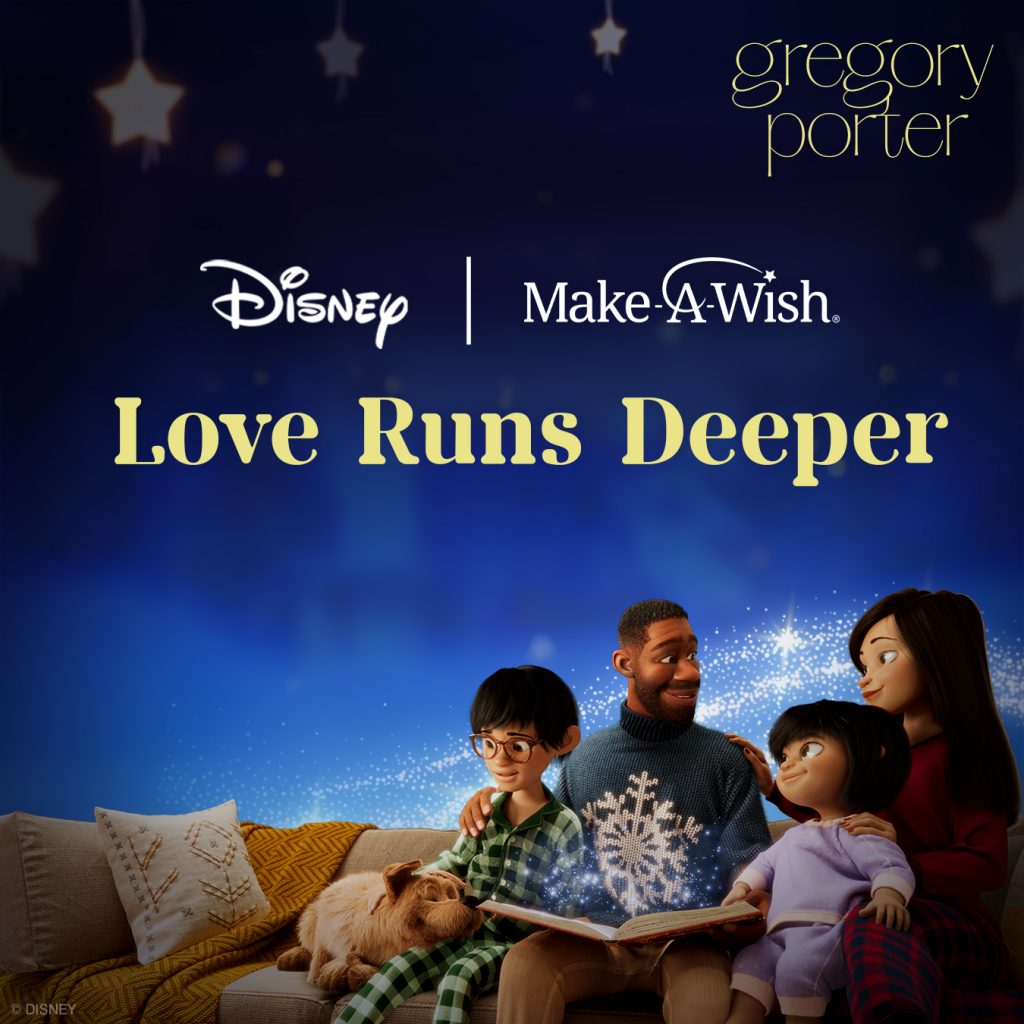 'Love Runs Deeper' is available to download now here.
Gregory Porter said: "The lyrics of the track are so powerful, and underline that behind everything there is love. When I read the first line of 'Love Runs Deeper', "When you open the door, I will be standing there", I was truly moved by its emotion and storytelling. I knew I needed to be involved with this campaign and support Make-A-Wish."
LOVE RUNS DEEPER TERMS AND CONDITIONS
100% of the proceeds received by Decca Records and Disney Music Group in connection with digital sales of the Gregory Porter recording of "Love Runs Deeper" between the period of November 1, 2021 and December 31, 2021 will be donated to Make-A-Wish International who support their international Affiliates. Proceeds equal 100% of monies received by Decca and Disney net of third party commissions, costs and taxes.
MAKING WISHES COME TRUE
As part of the campaign Disney were able to grant one child's true wish to life. Dylan, 13, who is supported by Make-A-Wish UK wished to be an animator and that was fulfilled by Flux Animation Studios, who developed the advert creative. His very own artwork of a cheetah can be seen on the family's fridge.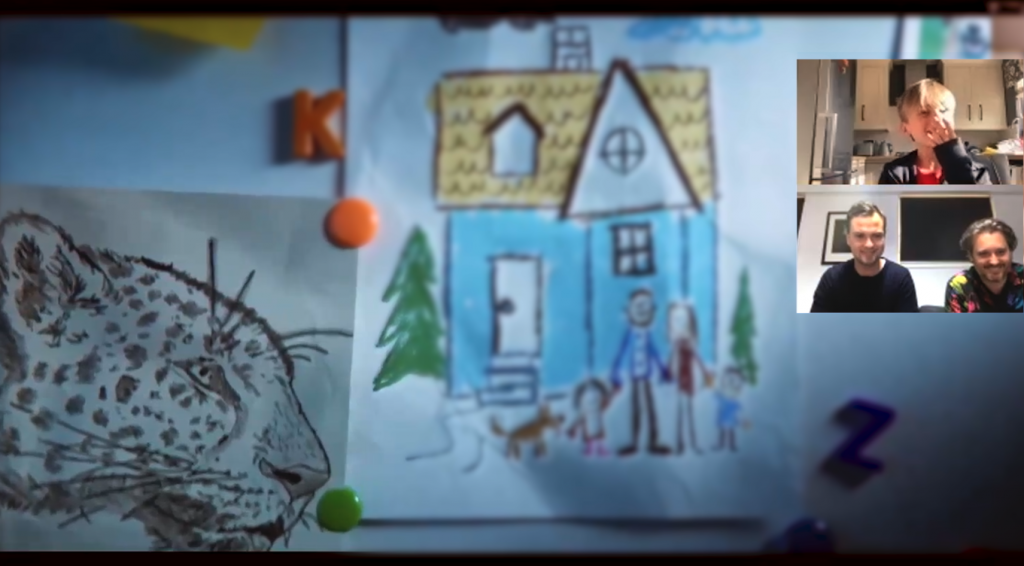 GIFT A WISH
A new element to the campaign this year is Gift A Wish, where people can spread hope and joy by sending a charity gift e-card throughout the holiday season. By sending a Make-A-Wish card, people are not only brightening someone's day but also supporting Make-A-Wish's work to grant life-changing wishes for children with serious illnesses. The cards are available at fundraise.worldwish.org/giftawish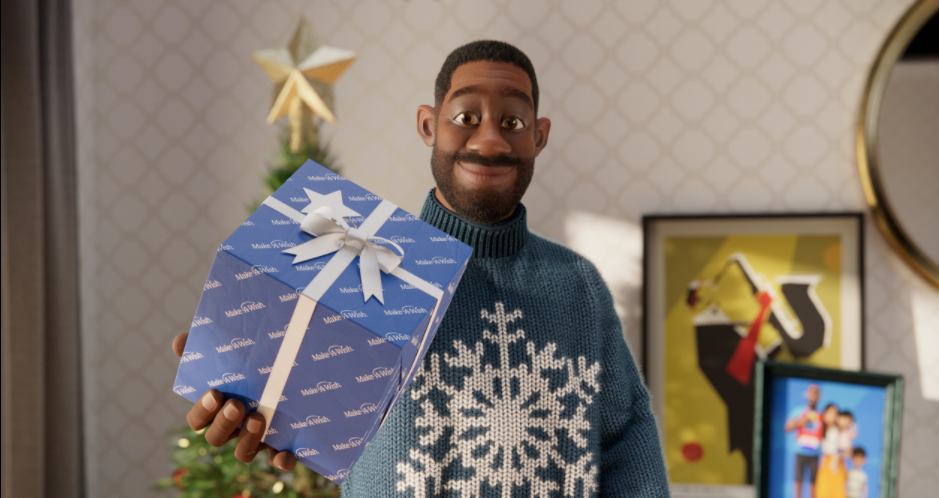 Luciano Manzo, President and CEO at Make-A-Wish® International said: "We are proud of our long-standing partnership with Disney and are delighted to be a part of this year's festive campaign. Audiences can also get involved by giving a gift of hope and joy to children with critical illnesses on behalf of loved ones this holiday season. They can brighten someone's day and send a charity e-card that helps Make-A-Wish grant life-changing wishes."
CROSS-EMEA SUPPORT FOR MAKE-A-WISH THROUGH 'FROM OUR FAMILY TO YOURS'
Through our long-standing partnership and in celebration of the campaign last year, we raised nearly $1m of support for Make-A-Wish International and their network of Affiliates. This included sales from our Mickey plush, our donation of Mickey's across EMEA for children waiting for Disney wishes and the amazing single by Griff, in addition to our annual corporate donation.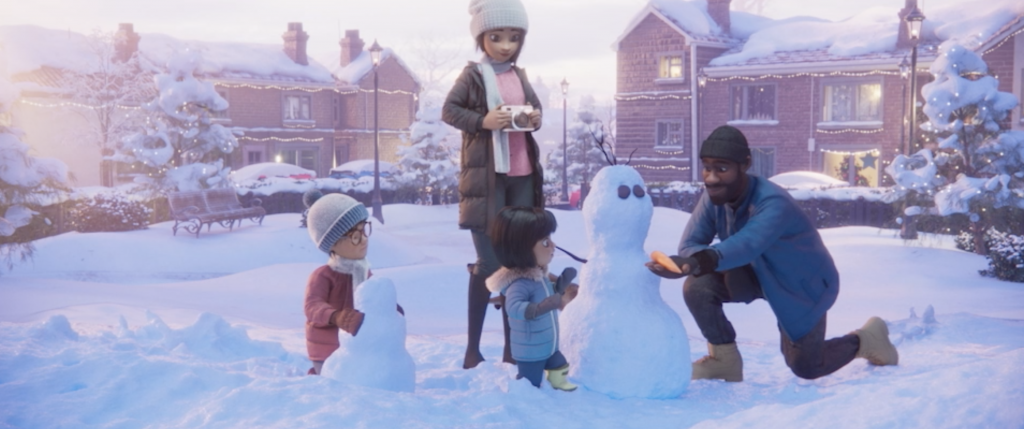 The commitment for this year's campaign is to double that figure with Disney giving support worth more than $2m to Make-A-Wish International and their network of Affiliates around the world. The support, made up of financial donations, media value and gifts in-kind will help Make-A-Wish step that much closer to achieving their vision, to grant a wish for every eligible child.
MORE ABOUT THE DISNEY AND MAKE-A-WISH PARTNERSHIP
For more than 40 years, Disney has been providing hope to wish kids and their families when they need it most. In fact, Disneyland was part of the first wish ever granted by Make-A-Wish. Since 1980, Disney and Make-A-Wish have granted wishes for more than 145,000 children with critical illnesses worldwide. Disney is one of the largest wish-granters for Make-A-Wish across the globe, having fulfilled more than 145,000 wishes globally. These experiences not only brighten lives but also help wish children and their families build emotional resilience and help replace fear with confidence, sadness with joy and anxiety with hope.
A recent example of collaboration saw Disney UK & Ireland, Make-A-Wish UK® and The Kentown Wizard Foundation come together in September 2021 to create a unique, first of its kind Disney Wish Experience in the UK. For three weeks, the Elvetham Hotel in Hampshire was transformed into an Enchanted Manor and played host to 140 families for a magical three-day immersive experience for children who had their Disney wish put on hold due to the pandemic.