"The Gift" – a powerful story of togetherness – is the final instalment of Disney's 'From Our Family To Yours' festive shorts
Fans can spot hidden 'Easter Eggs' in the advert, including those created by children in partnership with Make-A-Wish® – Disney's long-standing charity partner who grant life-changing wishes for children living with serious illnesses
The campaign supports Make-A-Wish® in a bigger way than ever before. Since the launch of 'From Our Family To Yours' in 2020, Disney will have committed support worth more than USD $4 million to Make-A-Wish® and its network of Affiliates around the world
Fans encouraged to get involved and donate to Make-A-Wish, with Disney matching all qualifying donations up to $100,000*
The original soundtrack, A Little More, is performed by Jessica Darrow, voice of Luisa Madrigal in Walt Disney Animation Studios' Oscar-winning 2021 film, Encanto
'FROM OUR FAMILY TO YOURS' – A TRILOGY | GIFT A WISH | GIFT A WISH TERMS AND CONDITIONS | SUPPORTING MAKE-A-WISH | 'A LITTLE MORE' | MORE ABOUT THE DISNEY AND MAKE-A-WISH PARTNERSHIP
'FROM OUR FAMILY TO YOURS' – A TRILOGY
[London] 2nd November 2022: Disney has today released a magical new Christmas advert to mark the holiday season, supporting long-term charity partner Make-A-Wish®. "The Gift" is a three-minute animated short that celebrates the comfort that storytelling brings families during times of change and how it deepens their bonds through togetherness.
The advert is the final instalment of Disney's 'From Our Family To Yours' trilogy with Make-A-Wish®, which premieres on Wednesday 2nd November 2022 across TV and Digital plus Disney's own channels in 46 countries across Europe, North America, South America, Africa and Asia.  
Watch on YouTube here: https://www.youtube.com/embed/v5l0XINFQao
Disney's first ever Christmas advert 'Lola' was released in 2020. In this first instalment, fans were introduced to Nicole and her grandmother, Lola, and watched how their bond deepened as festive traditions were passed down through the generations.
Last year's sequel, 'The Stepdad' followed a grown-up Nicole and her own children, Max and Ella, who welcomed stepdad Mike into their home. At the heart of the story was a very special storybook that celebrated the magic that small moments like reading together creates for families.
Both the 2020 and 2021 adverts reached over 184million views worldwide combined.
This year, the family prepare for another festive period and the touching arrival of a new baby!
"The Gift" is a powerful story of sibling relationships, experienced through the eyes of youngest child Ella, as she adjusts to the changing family dynamic. At the heart of the story is a beloved glow in the dark Mickey Mouse soft toy, which connects both past, present and future. Whilst the elder brother, Max is first shown giving Ella the Mickey Mouse to comfort her at night, Ella then gifts the soft toy to her new-born sibling at their first meet, welcoming them to the family.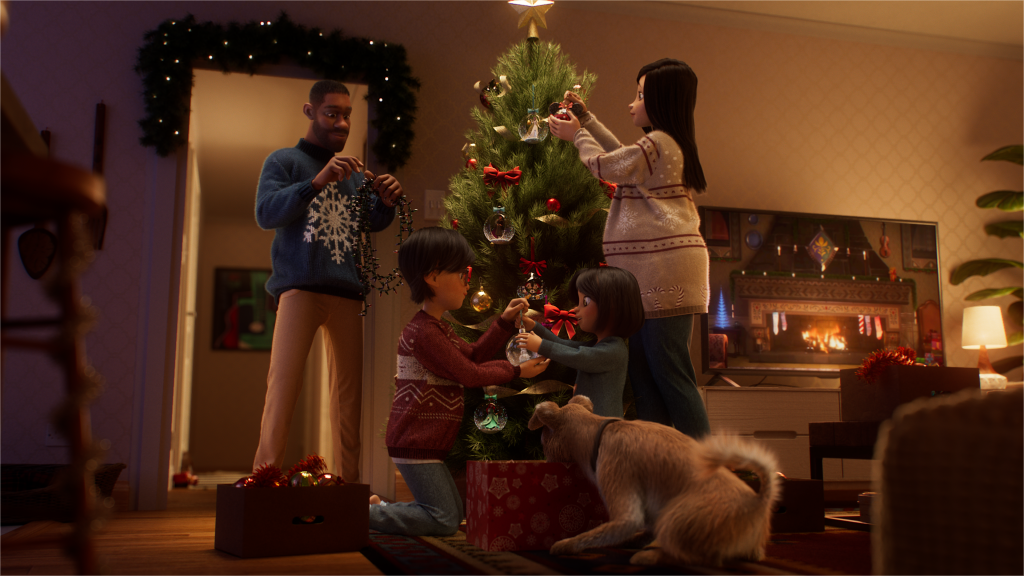 Sarah Fox, VP Marketing & Comms, Disney Consumer Products, EMEA, said: "For the last three years millions have watched our characters in our 'From Our Family To Yours' animated series, as they spend time together building connections and making memories. We set out to create a family unit that would resonate with audiences world-wide. We are truly grateful for the support we have received for this festive campaign and hope that families and fans enjoy this fitting, heart-warming final instalment of the trilogy. And we couldn't be more thrilled to continue our support for our long-term charity partner Make-A-Wish, where we are giving fans the opportunity to gift a donation for the first time."
GIFT A WISH
As part of the trilogy finale celebration, Disney is encouraging fans all over the world to join in and donate to Make-A-Wish® and will match all qualifying donations up to USD $100,000* (click PDF below for full terms and conditions) helping to grant even more life-changing wishes.
To give a gift of hope and joy to children living with critical illnesses this holiday season, fans can donate to Make-A-Wish® through shopDisney at checkout**, or via Make-A-Wish International at worldwish.org/disney.
GIFT A WISH TERMS AND CONDITIONS
**Fans do not need to purchase a product to donate to Make-A-Wish®. To make a direct donation, visit Make-A-Wish International at worldwish.org/disney or go to shopDisney online to Gift A Wish.
SUPPORTING MAKE-A-WISH
Since 2020, Disney will have committed support worth more than $4 million as part of 'From Our Family To Yours' to Make-A-Wish® and its network of Affiliates around the world. The support, made up of financial donations, media value and gifts in-kind, is a contribution to Disney's ongoing 40-year partnership to help Make-A-Wish® in their mission to grant life-changing wishes for children living with serious illnesses, as well as Disney's ongoing commitment to inspire a better world through the power of storytelling. 
Creating this year's Disney Christmas advert played a role in fulfilling wishes for three Make-A-Wish® children across Europe, Italy and Australia. Eagle-eyed viewers will be able to spot the three Make-A-Wish® 'Easter Eggs' – including the Frozen design on Sanka the dog's jacket seen in the ice-skating scene, which was designed by 12-year-old, aspiring fashion designer Sienna from Reading, UK.  
Luciano Manzo, President and CEO at Make-A-Wish® International, said: "We're proud to be continuing our long-standing partnership with Disney and delighted that fans can continue to get involved by giving a gift of hope and joy to children with critical illnesses, helping us grant even more life-changing wishes." 
'A LITTLE MORE'
Star of Walt Disney Animation Studios' Oscar-winning 2021 film Encanto, Jessica Darrow, performs the emotive soundtrack A Little More – penned exclusively for the advert by LA-based songwriters PARKWILD, Sofia Quinn and Rose Tan. It's released in celebration of Disney supporting long-standing charity partner, Make-A-Wish® International.
Providing a powerful vocal narrative to this year's story, Jessica is best-known for voicing Luisa Madrigal in Disney Encanto and singing the viral sensation Surface Pressure, which reached the top three in the UK single charts earlier this year, with over 276 million YouTube views.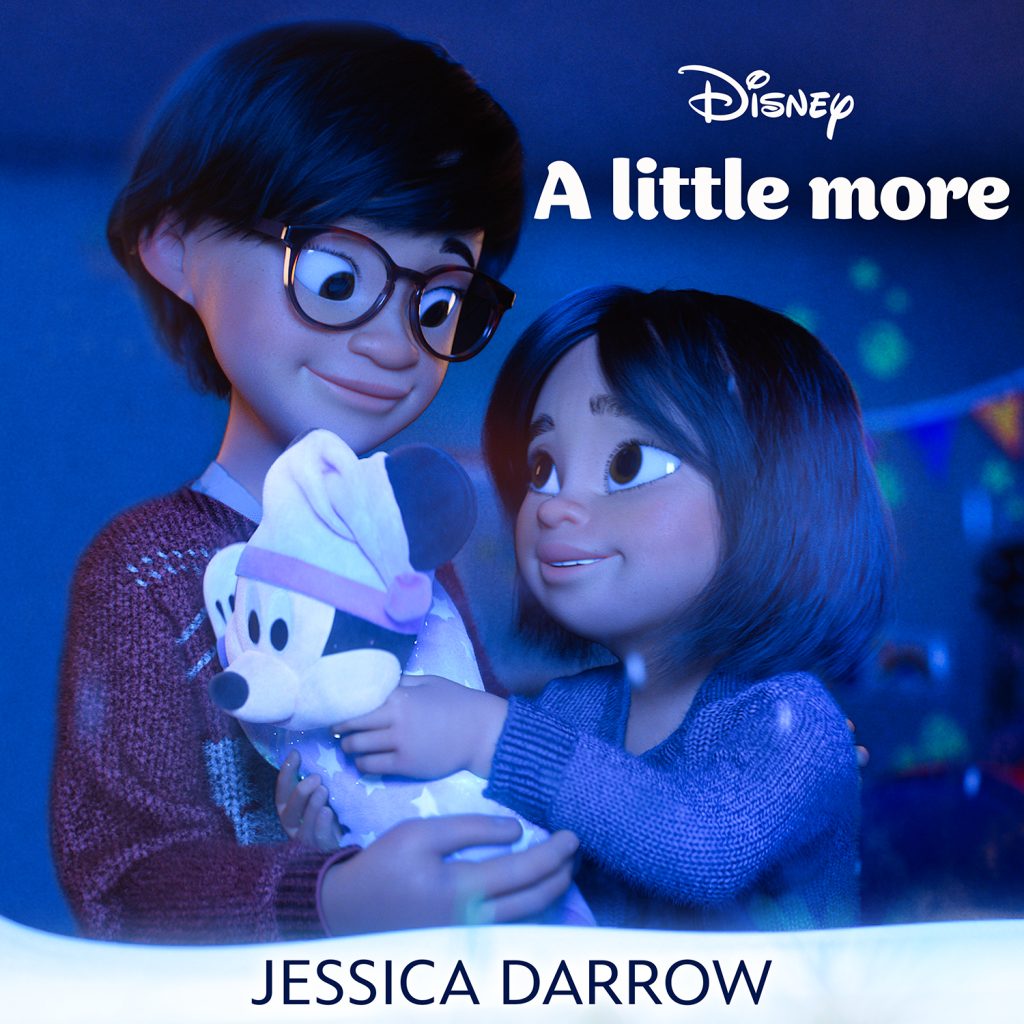 Jessica Darrow, star of Encanto who performs the soundtrack 'A Little More', said: "The holidays hold such a special place in my heart and what better way to come together with family and loved ones than through the joy of music? It was such a wonderful song to perform, and I can't wait for everyone to see the heart-warming story which concludes this inspiring trilogy."  
Jessica Darrow follows in the footsteps of Brits' Rising Star winner Griff, who performed Love Is A Compass on Disney's inaugural Christmas advert 'Lola', and two-time Grammy Award winner Gregory Porter, who sang the original duet 'Love Runs Deeper' with CHERISE in 'The Stepdad' last year.   
MORE ABOUT THE DISNEY AND MAKE-A-WISH PARTNERSHIP
For more than 40 years, Disney has been providing hope to wish kids and their families when they need it most. In fact, Disneyland was part of the first wish ever granted by Make-A-Wish. Disney is one of the largest wish-granters for Make-A-Wish across the globe, having fulfilled more than 145,000 wishes globally, since 1980. These experiences not only brighten lives but also help wish children and their families build emotional resilience and help replace fear with confidence, sadness with joy and anxiety with hope.
A recent example of collaboration saw The Walt Disney Company UK & Ireland, Make-A-Wish® UK and The Kentown Wizard Foundation join forces again to create a unique Disney experience in the UK for children living with serious illness. For two weeks in September, Hoar Cross Hall in Staffordshire hosted 240 families for a magical, immersive experience for children living with life-limiting or life-threatening illnesses; many who are unable to travel abroad due to their conditions.