Disney VoluntEARS supported projects in Johannesburg and Cape Town on Nelson Mandela Day, 18 July 2017.
In Johannesburg our Disney VoluntEARS team supported 3 charity initiatives in the Johannesburg area by contributing towards care packs and food for the charities. The first was a charity called Bethany, a non-profit organization founded in 1989 by Val Halley-Wright as a shelter and place of rehabilitation for abused women and their children.
There is a desperate need for shelters such as this one because of the spiraling domestic violence in our society. In the past year, Bethany have assisted approximately 52 abused women and their children offering them a safe haven and place of rehabilitation. It accommodates up to 52 women and children for approximately 12 -14 months. Every year Bethany takes in a collection of new families who are in need. The ladies taken in by this charity are educated and empowered to help them secure regular income or permanent work whilst also assisting with support to set up a new home for them and their children.
For Mandela's day Disney catered for the mothers and their children, The Johannesburg team took new clothes, stationary packs and books for the children.
In Cape Town our Disney VoluntEARS team supported Leaps Science and Math Schools that benefitted from "build a mosaic" on Nelson Mandela Day.
LEAP Science and Maths Schools provide free education to students from high-need communities, and have mathematics, physical science and English as mandatory subjects. School days are extended (9 hours), and they have Saturday classes and formal holiday programmes. Every LEAP school is partnered with a more privileged school as well as township schools in the community the school serves. This three-way collaboration creates the opportunity to share excellence in all spheres.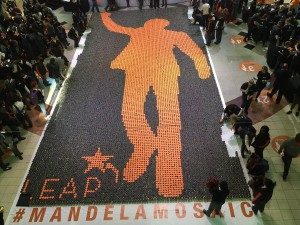 Mandela Day this year was an amazing experience! Our much anticipated #MandelaMosaic building day at Canal Walk Shopping Centre was a roaring success. We built a massive effigy of Nelson Mandela using food tins donated by Rhodes Quality Foods and members of the public, all of which will be donated to social development projects supported by LEAP Science and Maths Schools in Langa, Gugulethu, Crossroads, Philippi and Delft. We're still busy tallying the total number donated, but it's somewhere close to 18,000 cans. 17,016 cans were used to construct the mosaic, each one was covered with either an orange or black circle and the end result was breath-taking. Look for #MandelaMosaic on Twitter, Facebook and Instagram to see the day's events including the wonderful entertainment performances.