Direct Line, Actiph Water, California Almonds and Westfield launch innovative campaigns to support release of Thor: Love and Thunder on July 7.
Marvel Studios have collaborated with several brands including Direct Line, Actiph Water, California Almonds and Westfield celebrating the July 7 release of Thor: Love and Thunder in UK cinemas. The film finds the God of Thunder (Chris Hemsworth) teaming up with King Valkyrie (Tessa Thompson), Korg (Taika Waititi) and ex-girlfriend-turned-Mighty-Thor Jane Foster (Natalie Portman) to take on a galactic killer known as Gorr the God Butcher (Christian Bale).
Direct Line's "We're On It" campaign sees the leading UK insurance brand launch its first-ever in-window theatrical film collaboration. The campaign stars King Valkyrie (Tessa Thompson) in a humorous, custom 60-second spot. After hearing a troubling commotion in the distance, she leaps off Warsong and finds herself at a quaint cheese shop where a skateboard has crashed into its window. King Valkyrie is ready to challenge the skateboarders responsible, but is stopped by the shop owner who tells her not to worry as she is covered by Direct Line business insurance.
We next see King Valkyrie take an unexpected detour to the British seaside, where we see her lounging on the beach, devouring fish and chips, and chilling on a merry-go-round, while Warsong relaxes with some donkeys on the beach. We leave King Valkyrie as she gladly concedes that she can leave the people of the UK safe in the hands of the "Insurance Lords" at Direct Line.
In addition to cinema, the campaign will run across TV, VOD, OOH and social. The spot was created by Saatchi & Saatchi, with Mediacom handling media planning and buying.
Actiph Water, the UK's leading supercharged alkaline ionised water brand, has launched its biggest-ever brand campaign in collaboration with Thor: Love and Thunder. As part of the brand's nationwide "Charge up. Be Actiph" promotional campaign which targets adult health-enthusiasts, Actiph Water launched three limited-edition 600ml bottles featuring the film's key characters on-pack: Thor, Mighty Thor and Korg. The bottles are 100% recyclable and BPA free. The bottle promotion is via POS and FSDUs across a wide mix of retailers (including Tesco, Marks and Spencer, Holland & Barrett, Wholefoods, WHSmith, Co-Op, Ocado, Amazon, Planet Organic, and Nuffield Health & Village gyms), wholesalers, and directly on Actiph Water's website.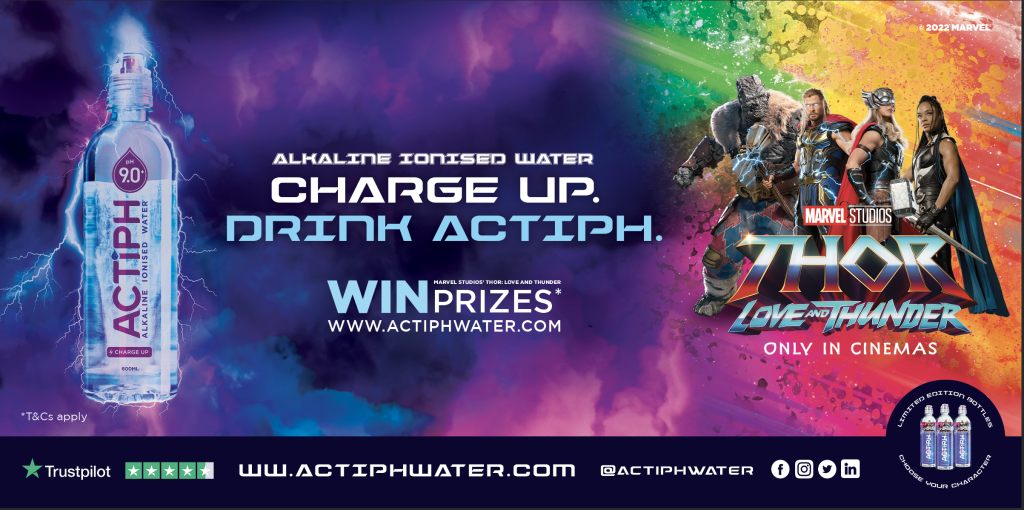 The campaign, which runs until August 15, includes paid TV, London Underground OOH, bus mega T-Sides, social and digital. You can view the TV spot here:
California Almonds' witty and irreverent co-branded promotional campaign encourages UK adults to 'Feel a little super with the natural power of almonds', posing the question 'Do You Almond?'. The campaign, created by London-based agency Isobel in partnership with US-based SRG and the Almond Board of California, runs until July 31, sees a 30-second TVC across TV, digital and VOD, as well as social and various cut down
Set in a classic British funfair, with vintage carnival rides and kids dressed in Mighty Thor outfits – the spot features an unassuming woman stepping up to the popular hammer game. Fuelled by almonds, she proves her worthiness and is able to slam the hammer down with a mighty force. Additional Almond Board of California campaigns are also running market-specific creative in Italy, Mexico, India and the US to support the movie release and global collaboration.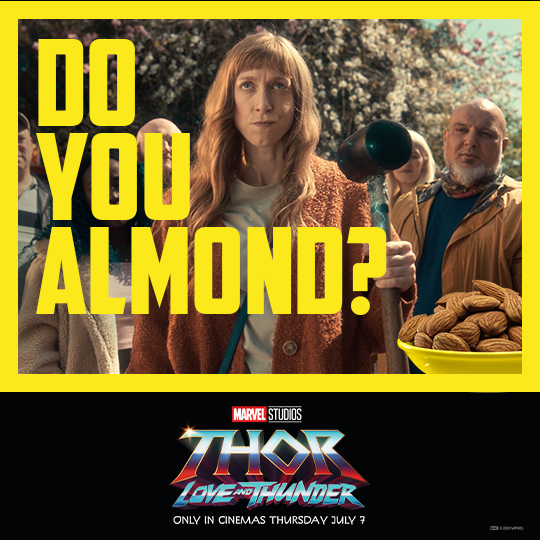 Westfield continues its on-going collaboration with Disney and Marvel Studios with themed takeovers on digital OOH and car-park screens in both Westfield London and Westfield Stratford City shopping centres, running until July 22.