Today, Disney and photographer, filmmaker and cultural curator, Misan Harriman, release the first portraits in the highly anticipated, Mickey & Friends: The Power of Friendship photography series. Harriman has captured a star-studded line-up including Leigh Anne Pinnock, Laura Whitmore, Sabrina Elba, Naomi Scott, Ella Balinska, Reggie Yates, Rochelle Humes, Olly Murs, Lila Moss, Nicola Adams, HRVY and Damson Idris.
The stars were photographed with their friends and loved ones to portray moving, powerful tales of friendship inspired by Mickey & Friends, marking International Friendship Day and raising awareness for Disney's non-profit partner, MediCinema UK.
Each portrait represents portrayals of friendships in different forms, with pairings including Laura Whitmore and her mother, Carmel; Olly Murs and friend James; Reggie and Cobbie Yates, plus many more. Iconic duo and patrons of MediCinema UK, Simon Pegg and Nick Frost, also reunite to support the charity, with Leigh-Anne Pinnock and actor, Naomi Scott, joining the series on their own to represent those who have used their voices to champion, challenge and change culture for the better.
As part of the three-year Mickey & Friends Stay True campaign, the full works by Misan Harriman will be displayed in a virtual exhibition in September later this year, and will also include real life friendships of civilians and stories captured in photographic form from Disney's hospital partners and MediCinema UK. To mark the involvement of MediCinema, Misan captured a touching story featuring Lucas who has been in and out of hospital for years, and supported by MediCinema UK volunteers, Billy and John, who Lucas now considers as his best friends. Through non-profit partners such as these, Disney is committed to create Moments that Matter by bringing comfort and reducing isolation for seriously ill children in hospitals.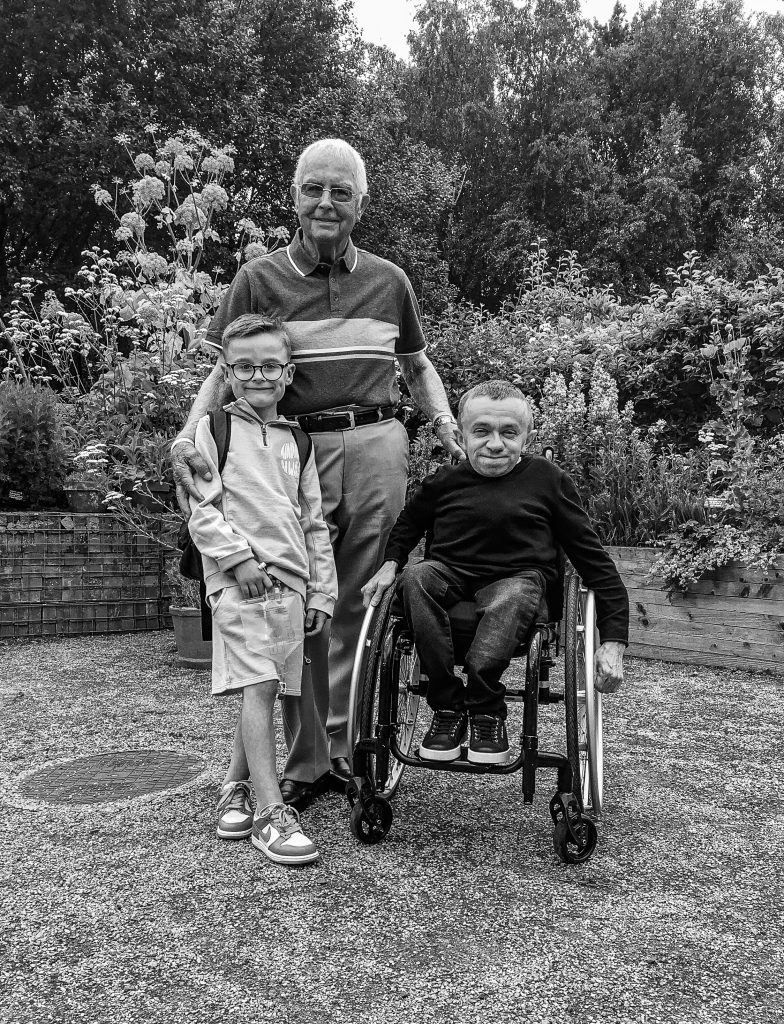 Taking inspiration from the sensational six, Mickey Mouse, Minnie Mouse, Donald, Daisy, Pluto and Goofy, the series represents a truly diverse range of friendships including mother and child, siblings, colleagues and long-standing friends as well as the different types of friendships that exists in unique forms.
Misan Harriman said: "It has been truly empowering to capture so many incredible tales of friendship from across the globe, both in real life and virtually. I hope that seeing the images released today fill people with as much hope as I had in taking them, and the joy of discovering what has brought each of the individuals together. There are so many moving stories that really demonstrate the true power of friendship, as seen with Mickey & Friends, and deliver Moments that Matter for those photographed."
Tasia Filippatos, Senior Vice President, Consumer Products, Publishing and Games, The Walt Disney Company EMEA said: "Misan Harriman is one of today's greatest storytellers and has been able to capture the true power of friendship – whether that's between broadcasters, actors, activists, sports stars, musicians or everyday people – all with unique stories, who have come together in celebration of Mickey & Friends and International Friendship Day to help support our partner charities."
About Misan Harriman
Photographer, creative director and cultural commentator Misan Harriman is the first black person in the 104-year history of British Vogue to shoot the cover of its September issue. His strong reportage style and unique eye for narrative has captured the attention of editors and celebrities around the world. From documenting historic moments in history, most recently the Black Lives Matter movement in London, to photographing high profile celebrities, including Stormzy, Tom Cruise, Adwoa Aboah, Giorgio Armani, Kylie Minogue, Cate Blanchett and Olivia Colman, Harriman is a photographer of extraordinary range. His commissions include royal, private and high-profile portraiture as well as reportage documenting and covering behind the scenes at major awards, music festivals and film sets. His striking images have featured in Vanity Fair, Vogue UK, Harpers Bazaar, People Magazine and The Telegraph among others.
He is the founder of http://www.whatweseee.com a curated platform for enriching film, music, poetry and art.
Nigerian born, Harriman was educated in England where he developed a life-long love for the arts. This led him to picking up a camera and honing his craft. Harriman is completely self-taught, his work inspired by Gordon Parks, Sally Mann, Eve Arnold, Bruce Davidson and Peter Lindbergh.
About MediCinema UK
MediCinema is a registered UK charity that builds and runs state-of-the-art cinemas in NHS hospitals, accommodating hospital beds, wheelchairs and equipment. It works to progress patient resilience and recovery and improve wellbeing and quality of life through the power of film and the shared cinema experience. During their stays in hospital, patients, families, and carers can see the latest releases as well as silver-screen classics for free and get a much-needed break from the wards. In a recent survey, 99 per cent of respondents agreed that MediCinema makes a positive difference to their experience of the hospital, 93% said it helped reduce isolation and 92 per cent agreed that MediCinema helps to reduce anxiety and stress. Since MediCinema was founded in 1999 it has given nearly 200,000 cinema experiences to patients and those closest to them. MediCinema operates cinemas in the following: Guy's, St Thomas' and Chelsea and Westminster Hospitals in London, Newcastle's Royal Victoria Infirmary, the Southern General Hospital in Glasgow and Serennu Children's Centre in Newport, South Wales.
Disney's Social Purpose
As well as being a responsible business, Disney is dedicated to providing comfort and inspiration to those in need and creating inspiration and opportunity for those who want to improve their world. Disney's long-standing partnership with MediCinema is an example of how, through working with others, we help build emotional resilience. Together we bring the power of our brand, stories and characters to inspire and create Moments that Matter for children and those closest to them when they need it the most. In 2020, we created over 39,000 life-changing moments across Europe. For more information on our programmes and our long-standing charitable partners please click here.
About Disney Consumer Products, Games and Publishing
Disney Consumer Products, Games and Publishing (CPGP) brings the magic of The Walt Disney Company's brands and franchises—including Disney, Pixar, Marvel, Star Wars, National Geographic, and more—into the daily lives of families and fans around the world through products and experiences across more than 100 retail categories from toys and t-shirts to apps, books, video games, and more. A division of the Disney Parks, Experiences and Products segment, CPGP's global operations include: the world's largest licensing business, one of the biggest children's publishing brands, a leading licensor of interactive games across platforms, Disney store locations globally, and the shopDisney e-commerce platform.