Part of the Superhero Series – the UK's only mass-participation sports series dedicated to the nation's 14.6m* people with disabilities
1,000 participants and spectators of all ages to took part at Dorney Lake on Sunday 4 December
Superheroes cycled, walked, ran, pushed, or were pushed to complete 1km, 5km or 10km SUPER challenges
For the fourth year running, Marvel lends its support to Winter Wonderwheels, following hugely successful Superhero Tri and a series of virtual events which launched during pandemic
A celebrity-led challenge invited participants to take part with stars of sport and screen including comedy king and TV presenter Adam Hills; Paralympic equestrian champion Sophie Christiansen; and Paralympic wheelchair basketball athlete, Amy Conroy.
On Sunday 04 December 2022, Winter Wonderwheels – part of the Superhero Series, the UK's only mass-participation sports series dedicated to people with disabilities, took place at Dorney with an impressive 1000 participants and spectators.
The Superhero Series continues to grow in participant numbers year on year and to increase in popularity despite reports** showing activity levels among disabled people have failed to return to pre-Covid levels. The in-person event, open to ages 2 – 80, was supported by its 'At Home' counterpart, making the event 100% accessible across the globe. The two events combined saw 2,200 Superheroes and Sidekicks taking part in physical activity and concluding on 04 December.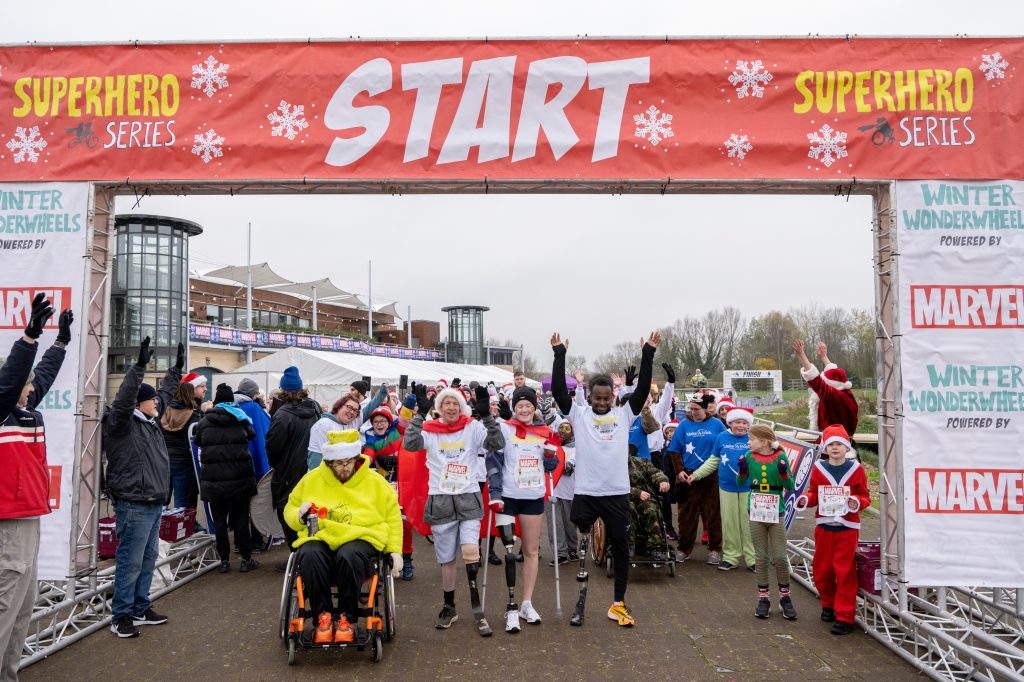 Powered by Marvel, Winter Wonderwheels brings people with any kind of disability together to compete in a unique, solo or team challenge; cycling, walking, running or pushing 1km, 5km or 10km at 2012 Summer Paralympic venue, Dorney Lake, Windsor. Like all Superhero Series events, it throws out restrictive rules and regulations and encourages participants to use any method of support required to complete their challenge – all 'gadgets and gismos' were welcome on the course, from day chairs and bikes to walking frames and trikes.
Participants either flew solo or teamed up with 'Sidekicks' (family and friends) to take on the unique challenges with as much or as little time and support as needed. With a huge emphasis on fun, Winter Wonderwheels participants and their 'Sidekicks' were also encouraged to come along dressed as their favourite Superhero with a dash of festive sparkles.
In addition to the three challenges, there was also a 'celebrity Wonderwheels' race, where members of the public won the chance to unite with a Celebrity Team Captain from TV and sport by sharing their super stories. This year's event saw celebrities including comedy king and TV presenter Adam Hills; Paralympic equestrian champion Sophie Christiansen; Paralympic wheelchair basketball athlete, Amy Conroy; Paralympic canoeist, Anne Usher and Paralympic field athlete Stephen Miller leading competition winners in their very own teams as they complete the course.
Celebrity Team Captain Adam Hills shared "(The event) just sends me floating home with a smile on my face because of the vibrant, joyous atmosphere and I know what it means to the contestants taking part."
"I like being a team captain and being involved because it gives families the chance to all compete together, which when you've got one child with a disability doesn't always happen"
Getting into the Super Hero spirit, celebrities joined in with the festive fun, but this event has never been about the celebrities, it's about the Everyday Superheroes who boldly face what life throws at them. At Superhero Series there's almost too many incredible stories to mention, but here's two that are particularly SUPER:
SUPER competition winner Harley, 28, is no stranger to the Superhero events and his huge collection of medals represent this. With seven events completed, and counting, Harley is a true Superhero role model. Harley has autism, an amputated right foot, OCD and Tourette's syndrome. He faces challenges everyday but he thrives on the Superhero missions. In the summer, he completed his first triathlon, raising money for Huntington's Disease Association. Harley will be taking on the celebrity race with Stephen Miller, and he will be joined by his Sidekick – mum, Vanessa, and brother, Eden.
Another competition winner is Superhero Nancy who won the chance to take part with wheelchair basketball player, Amy Conroy around the 5km course. Nancy's life changed suddenly this year when she experienced a spinal stroke. She is now paralysed from the waist down and is having to adjust to her injury. Nancy said, "I won't let this stop me". In true Superhero spirit, Nancy loves sport and has found multiple clubs to join including wheelchair racing and para swimming. Now back at school, Nancy is juggling sports with theatre school along with the new daily challenges she faces. It may have only been 8 months since her injury, but Nancy is up for a new challenge and what better way to start than joining Celebrity Winter Wonderwheels.
Commenting on the series, founder and Paralympian Sophia Warner said: "As an elite athlete I was very fortunate to have access to a whole world of sporting opportunities. But as an everyday person with a disability, finding sports events to do for fun is a real struggle. I know how disheartening it is to still be taking part in fun runs when the roads are reopening, and organisers are clearing up before you've had a chance to finish.
"When I retired from professional sport, I created the Superhero Series – sporting events designed especially for people with disabilities. Events where Everyday Superheroes can use any type of equipment or support they need to complete the course – from adaptive bikes and powerchairs to able-bodied Sidekicks who can take the strain where needed. It's a fun sports series that caters for all kinds of disabilities, where they can feel in the majority rather than the minority."
As well as the Winter Wonderwheels powered by Marvel event, the Superhero Series consists of summer's Superhero Tri, and two virtual events. At Home Winter Wonderwheels and At Home Superheroes run alongside both physical events so no Superhero is left without a mission.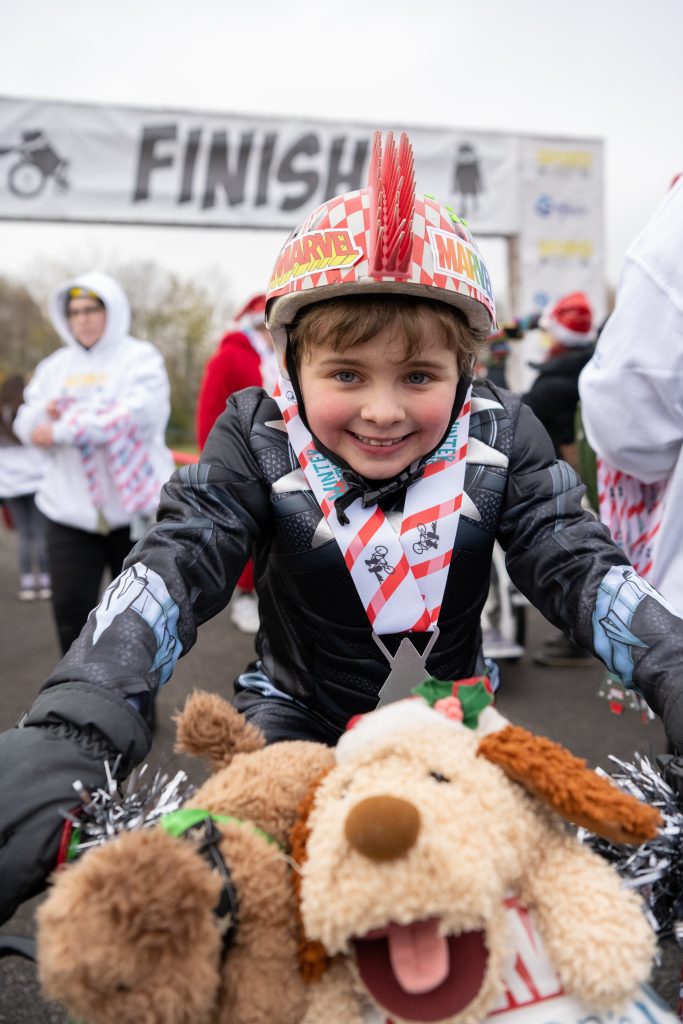 If you consider yourself to be a Superhero or have a Superhero in the family who would love the chance to get active and have a SUPER- sized day out, sign up for the next event, Superhero Tri on the 12th August 2023. If virtual missions are more your style sign up for At Home Superheroes commencing on the 8th July at Superheroseries.com [link: https://superheroseries.co.uk/]
Powered by Marvel as the headline sponsor, the event features Marvel Super Hero characters and storytelling to help participants find their power before, during, and after the challenge, and inspire more children and families to get involved.
Marvel's sponsorship for the Superhero Series forms part of Marvel and Disney UK's wider Healthy Living initiative, which uses the power of popular characters to inspire children and families to be more active.
* UK House of Commons disability statistics
**June 2022 Activity Alliance