A unique and immersive Augmented Reality product from Lenovo™ and Disney is coming to the UAE.
Lenovo™ and Disney, in partnership with Etisalat, are bringing Star Wars: Jedi Challenges, a new smartphone-powered augmented reality product, to local retailers — allowing fans to experience Star Wars in a new and exciting way at home. Each box comes with the Lenovo Mirage™ AR headset, Lightsaber controller and Tracking Beacon that players use to hone their Jedi talents, offering several hours of multi-level immersive gameplay.
Star Wars: Jedi Challenges Story
Players begin their epic journey by discovering a Holocron – a Jedi object that stores knowledge. It can reproduce holograms of any person, place or thing in the galaxy. Unlocked only by Force – sensitive individuals, the Holocron manifests a representation of Jedi history, The Archivist, to train the player to be a Jedi.
The Archivist guides and tests the player as they progress down the path of becoming a Jedi. The Archivist assists the player in acquiring three important Jedi skills through trials of Lightsaber Battles, Strategic Combat and Holochess. Winning trials result in increasingly more challenging confrontations, unlocking progressions through the ranks of the Jedi.
The Archivist uses the Holocron to project images and challenges inspired by events in the Star Wars galaxy. The player progresses on the path of the Jedi through six planets such as Naboo and Hoth. Each planet has its own set of challenges, difficulty levels and dark side villains to defeat. Overcoming each new challenge allows players to progress through the Jedi ranks from Padawan to Knight, and eventually, Master.
Gameplay
Star Wars: Jedi Challenges features three gameplay modes players must master in their journey to becoming a Jedi. The skills a Jedi-in-training must learn have three levels of difficulty and, as players develop these skills, new levels in each mode are unlocked.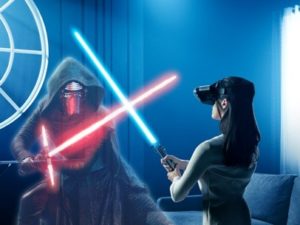 Lightsaber Battles. Fans hone their combat skills as they train against legendary dark side villains like Kylo Ren, Darth Vader and more. Each villain has their own distinct Lightsaber style and role in the story, revealing key learnings that help an aspiring Jedi progress forward in combat.
Strategic Combat. A trial of leadership, players command entire armies – marshalling the forces of the Republic, Rebel Alliance and Resistance against the might of the Separatists, Empire and First Order in epic battles across their living room floors. Players can hone their skills in strategy and tactics as they engage in battles.
Holochess. Perhaps one of the most iconic board games brought to film, Holochess first leapt into moviegoer hearts when it was played on the Millennium Falcon in Star Wars™: Episode IV-A New Hope™. A trial of insight, Holochess teaches players how to plan ahead. Fans can direct their holographic alien pieces across the board, wrestling for territory and control.
Star Wars: Jedi Challenges offers hours of gameplay, depending on the players' ability to acquire skills and win challenges.
A compatible phone and the Star Wars: Jedi Challenges companion app are required. Star Wars: Jedi Challenges is compatible with both Android™ phones and iPhones®. For a full list of compatible smartphones, visit jedichallenges.com/compatibility.
Star Wars: Jedi Challenges will be available in the UAE across all major retailers and select Etisalat stores from 15 November for AED 1,199.