THE UK'S ONLY SPORTS SERIES DEDICATED TO THE NATION'S 14.1 MILLION PEOPLE WITH DISABILITIES OF ANY KIND WILL TAKE PLACE AT THE WORLD-CLASS DORNEY LAKE THIS SUMMER
SUPERHERO SERIES: SUPERHERO TRI 2022
Saturday 20th August 2022
CHALLENGE HIGHLIGHTS ON CHANNEL 4 – SUNDAY 4TH SEPTEMBER 2022
The SUPERHERO TRI, powered by Marvel, will see the return of its Superhero Tri event this summer following the incredible success of its virtual event last year. The sports challenge will see over 3,000 people with disabilities, and their 'Sidekicks', take part in its first 'real life' mass event since the pandemic. Highlights from the day will be broadcast on Channel 4 on Sunday 4th September.
Now is its sixth year, the Superhero TRI will take place at the world-class 2012 Paralympic rowing venue Dorney Lake, in Windsor and will offer the chance for participants to become an Everyday Superhero! Challenges will include a swim, cycle and a push/run which can be done either solo, share the fun in a team relay or Superheroes can recruit Sidekick teammates to tow, push & pull them around the entire course. The event will also include a regular highlight, the Celebrity Superhero Tri, where Superheroes that have been randomly chosen to unite with stars from sport and screen for a super-fun relay race.
Marvel will lend the power of its Superhero characters and storytelling to make the day even more epic for all participants who are taking part. Offering the perfect partner for the day that is all about inspiring participants to unlock their inner superpowers, Marvel will bring epic energy of its iconic Superhero characters Spiderman and Black Widow to the event.
As UK's one and only disability mass participation sports series, the SUPERHERO SERIES has a simple mission: to create fun, full-throttle mass-participation sports events where people with disabilities – our 'Superheroes' – call the shots and don't have to worry about cut-off times or equipment restrictions.
Paralympian and Superhero Series Founder Sophia Warner: "I am absolutely thrilled that we can bring back the Superhero TRI with our first real life event in three years. Not everyone who has a disability wants to be a Paralympian. I wanted to create a unique sporting event where people with all kinds of disabilities feel part of a strong community and, crucially, where they can feel confident, they'll be part of the majority rather than the minority. As the UK slowly recovers from the pandemic, many people with disabilities still feel vulnerable and have had a tough time over the last two years. This sporting event will showcase what's possible when we come together as a society and lift each other up."
Sara Hanson, Director of ESR, Disney EMEA: "We want to send the best of luck and well-wishes to all of today's incredible Superheroes and Side Kicks taking part in the epic Superhero Series Superhero Tri 2022"
"We want to help create long-lasting memories and experiences for those taking part in today's heroic challenge. We will be bringing two of our most iconic Marvel characters along to inspire all of the wonderful participants this year, to help find their inner powers and unlock their inner Super-Hero! We are incredibly proud of Marvel's ongoing support of the series and that our storytelling and characters continue to be a force for good by inspiring a world of belonging, while encouraging children and families to have fun and be active. We hope all of today's Superheroes have the best day!"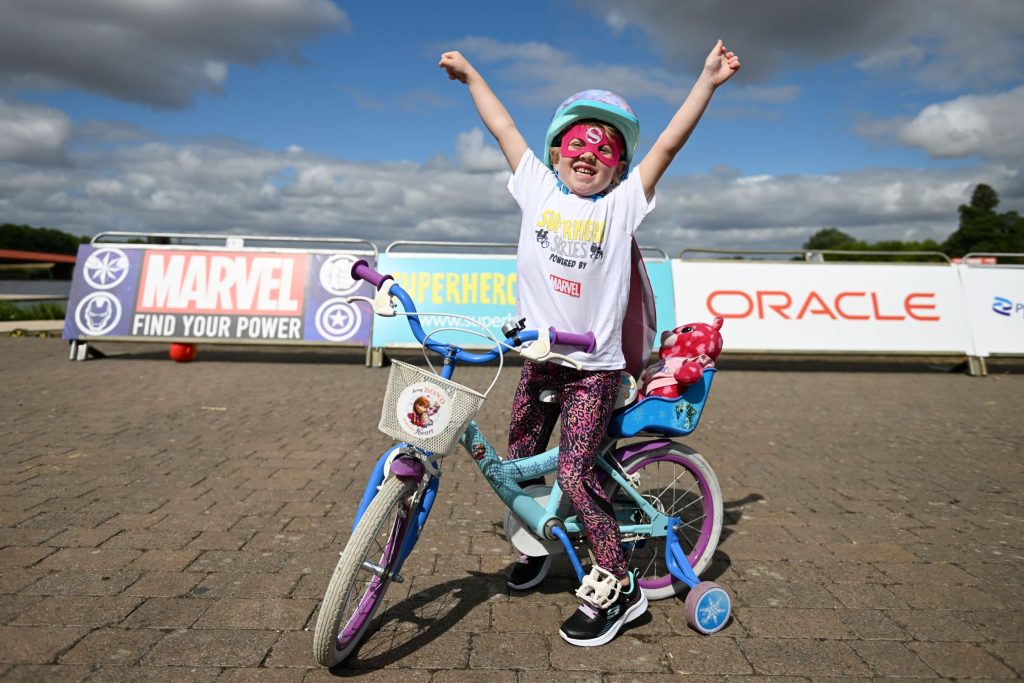 CELEBRITY TEAM CAPTAINS
Briony May Williams – TV Presenter & GBBO semi-finalist and Christmas Special Winner
David Wiseman – Invictus Games medalist & former captain in the Army
Anne Usher – Paralympic gold medalist & two-times canoe World Champion
Andy Craddock – Inclusive sport crusader
Alex Brooker – Comedian & TV presenter
Sophie Christiansen – Eight-time Paralympic equestrian champion
Jordan Jarrett-Bryan – Sports reporter, DJ, and journalist
Stephen Miller – Club Throw Paralympic champion
Ian Marsden – Paralympic canoe medalist
Menna Fitzpatrick & Jen Kehoe – Paralympic slalom & World Cup ski racing champions
Richard Whitehead – Paralympic 200m champion & long-distance world record breaker
Ollie Hill – Paralympic snowboard medalist
Josh Llewellyn-Jones – World record holder & ultra-athlete
Amy Conroy – Paralympic wheelchair basketball player & U25 World champion

Following the success of the SHS online events, there will also be virtual challenge for those who are unable to attend or competing from around the world with celebrity captains to be announced.
SOPHIA WARNER, TEAM CAPTAINS AND SELECT PARTICIPANTS ARE AVAILABLE FOR INTERVIEW.