At Home Winter Wonderwheels powered by Marvel, is the latest event from Superhero Series, the only mass-participation sports series dedicated to the UK's 13.3m people with disabilities
3,500 participants (AKA Super Heroes and their Sidekick family and friends) are running, walking, wheeling, skating and even sniffing and tasting towards their goal from their homes and local neighbourhoods
Every participant is in one of five SUPER teams racing against each other around the world to reach an impressive 40,000km!
Each team is led by a Celebrity Team Captain, including the comedians and The Last Leg frontmen Adam Hills and Alex Brooker, Paralympic champions Sophie Christiansen and Anne Usher, and TV presenter JJ Chalmers
The Super Hero participants are filming their own missions for a Channel 4 special airing at 8.30am on 12 December, presented by Clare Balding
Despite the restrictions and tiers, a positive story is unfolding across the nation! At Home Winter Wonderwheels, the latest month-long 'At Home' challenge from the Superhero Series of events, has seen thousands of participants (or Super Heroes and Sidekicks as we like to call them) from every walk of life pull together to achieve their round-the-world goal of clocking up 40,000km by 6th December.
Five Celebrity Team Captains head up the SUPER teams, each made up of hundreds of Super Heroes and Sidekicks. The teams also celebrate a beloved Marvel character. Adam Hills (Black Panther) and Anne Dickens (Captain America) will be out on their bikes clocking up the kilometres, while Alex Brooker (Iron Man) will be working towards his 320km target every day of the challenge on his Peloton bike at home. Sophie Christiansen (Captain Marvel) will be jumping on her horse every chance she gets and JJ Chalmers (Spider-Man) is planning on a mix of dancing and numerous Super Sensory challenges, including a sniff and taste test, to help his team towards their super target.
The Super Heroes can complete their own target distance using whatever imaginative means they want wherever they wish – running, wheeling, skating – but this event sees a popular new addition – the Super Sensory challenges. "We know some of our participants find it hard to venture out in the cold or move around freely, so some may prefer to use their super senses towards their At Home goal," explains Sophia Warner, Superhero Series founder and former Team GB Paralympian.
From popping bubbles to fun food taste tests, participants can choose from a whole range of sensory challenges or invent their own. Each sensory achievement is simply converted into one kilometre to go towards their team's round-the-world goal.
Thanks to its super flexibility, the At Home challenge has brought hundreds of new participants into the Super Hero family, including Cloudesley School in Islington, London, who have entered all 90 of its pupils. They will be using the school grounds on dry days and their 100m corridor on rainy days to ensure they can keep active and reach their super targets whatever the weather.
Other new participants have included the charity Strong Bones, where 35 Super Heroes have unleashed their Super Senses for the challenge. In addition, an international team of Invictus Games participants are using all kinds of 'gadgets and gismos', from adaptive bikes to canoes and skis, to assist their SUPER teams.
***Super Heroes entering as solo participants must consider themselves to have any kind of disability, whether it be physical, intellectual, sensory or invisible. No classifications are needed. As it's all about inclusivity and access, anyone can enter team events, as long as a least one team member considers themselves to have any kind of disability. ***
"That's what's so amazing about At Home Winter Wonderwheels powered by Marvel," adds Sophia. "Absolutely anyone, wherever they are and whatever unique superpower they have, can join the fun at a time when superhero spirit is needed more than ever."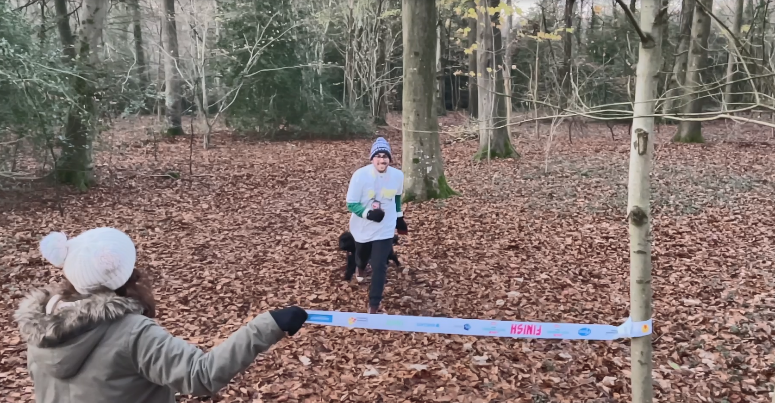 Every Super Hero who enters the At Home event receives a Super Race Pack, including a medal, T-shirt and finish line tape to celebrate those all-important finishing moments. They are also sent a link to upload their home videos of the challenge for their chance to star on TV.
The Channel 4 highlights programme, presented by Clare Balding, will air at 8.30am on 12 December.
About Superhero Series
This Series wouldn't be possible without the support of its Super Partners: Marvel, Disney, My Sense, Pfizer, Aberdeen Standard, Blatchford, Lucozade, Leonard Cheshire, Foster Denovo, Quest 88, Resport, Barclays and Rubies.
Superhero Series is the UK's only sports series dedicated to the nation's 13.3 million people with disabilities of any kind (Everyday Super Heroes) and their family and friends (Sidekicks).
There are four annual events: Superhero Tri; At Home Superheroes; Winter Wonderwheels; At Home Winter Wonderwheels.
The success of the 2020 At Home events has highlighted the need for the Series to continue to offer these events alongside its regular events going forward, to ensure as many budding Superheroes as possible can take part. For example, At Home Winter Wonderwheels has seen three times as many participants as the Series' regular Winter Wonderwheels event, at Dorney Lake.
The Series launched on 19 August 2017 with Superhero Tri and is now in its fourth year.
Each Superhero Series event features a 'celebrity race', where members of the public can win a chance to unite with high-profile Celebrity Team Captains from TV and sport.
Super Heroes entering as solo participants must consider themselves to have any kind of disability, whether it be physical, intellectual, sensory or invisible. No classifications are needed.
Anyone can enter team events, as long as a least one team member considers themselves to have any kind of disability.
The two regular events are both based at the world-class 2012 Paralympic rowing venue Dorney Lake in Windsor.
The Series is founded and run by Paralympian Sophia Warner.
Disney's Social Purpose
As well as being a responsible business, Disney is dedicated to providing comfort and inspiration to those in need and creating inspiration and opportunity for those who want to improve their world. Disney's partnership with the Superhero Series and At Home Winter Wonderwheels is an example of how, working with others, we help build emotional resilience. Together we bring the power of our brand, stories and characters to inspire and create Moments that Matter for children and those closest to them when they need it the most. In 2019, we created over 26,000 life-changing moments across Europe. For more information on our programmes and our long-standing charitable partners please visit www.thewaltdisneycompany.eu
About Marvel Entertainment, LLC
Marvel is one of the world's most prominent character-based entertainment companies with a catalogue of iconic Super Hero characters and marks its 80th anniversary in 2019.
Marvel Entertainment, LLC, a wholly-owned subsidiary of The Walt Disney Company, is one of the world's most prominent character-based entertainment companies, built on a proven library of more than 8,000 characters featured in a variety of media over seventy years. Marvel utilizes its character franchises in entertainment, licensing and publishing. For more information, visit http://www.marvel.com/. © 2019 MARVEL