On January 20th, Walt Disney Records announced the release of Lofi Minnie: Chill, the follow-up to Minnie Mouse's hugely successful debut album from last year, Lofi Minnie: Focus, which saw her curate the finest artists in the genre of Lofi Hip-Hop to reimagine classic Disney songs.

The chill out album sees iconic hits like "When You Wish Upon a Star," "Beauty and the Beast," "We Don't Talk About Bruno" and more, given a relaxed new vibe perfect for unwinding, studying, or creating.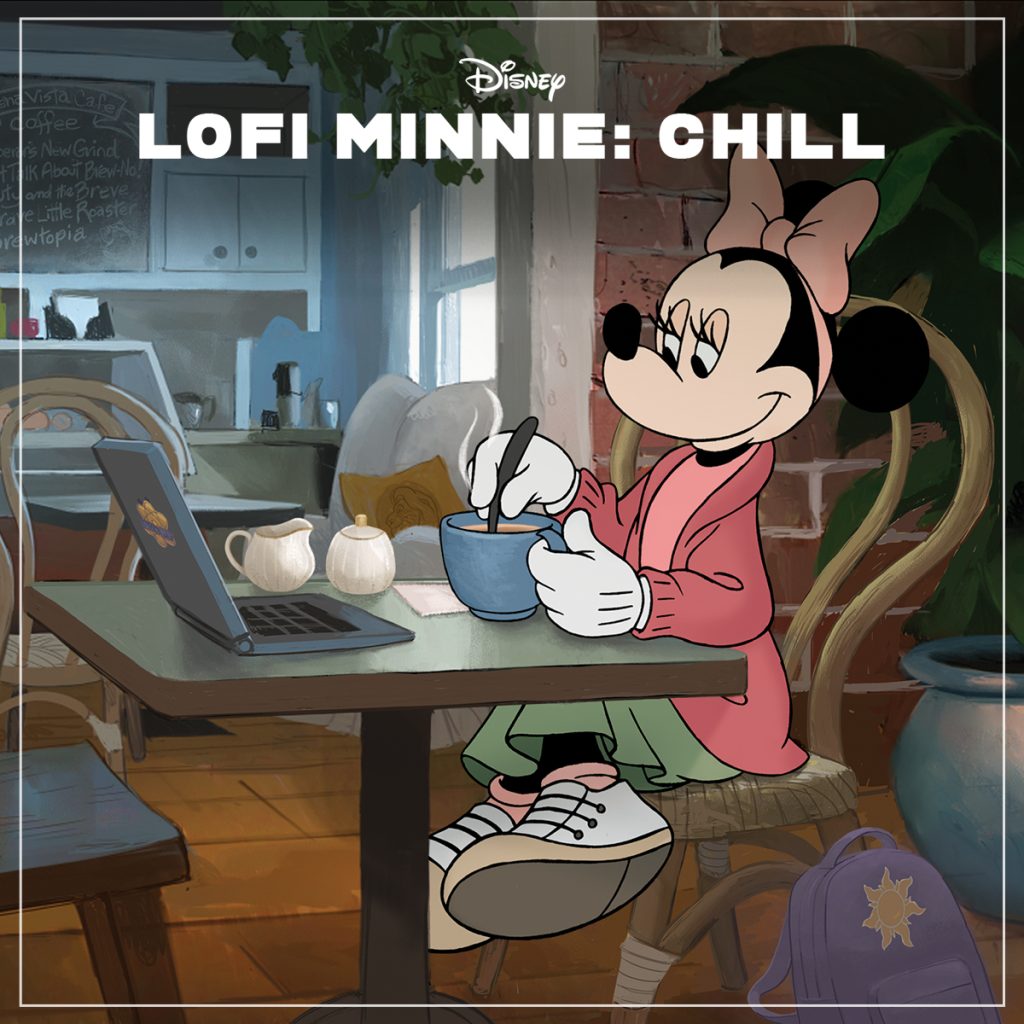 Lofi Minnie: Chill sees Minnie again curate the biggest and most up-and-coming Lofi artists worldwide, including eevee, Gnarly, Jeff Kaale, and more, amassing hundreds of thousands of streams between them.
Last year's Lofi Minnie: Focus was the first album by Minnie Mouse, and emerged to incredible success with over 12 million streams worldwide. The track 'Hakuna Matata' also received 4.5 million streams on its own, and was added to one of Spotify's biggest playlists 'Mellow Beats' which has 1.5m followers.
The album garnered attention from media across the globe including NME, Mixmag, Rolling Stone, and more, with the BBC commenting that '… Disney's soaring, inspirational ballads are a perfect fit for the genre.'

Tim Pennoyer, Enterprise Franchise Management, The Walt Disney Company said: "As Minnie Mouse is one of Disney's most celebrated icons, she's a source of comfort for so many around the world. Bringing listeners comfort, and a way to unwind, is a huge part of what makes Lofi special too. We saw those elements marry so well in the release of our first album, Lofi Minnie: Focus, that we knew we couldn't stop at just one. In our first release, we explored album artwork that gave us a deeper look into Minnie's world, and this time around we had the pleasure of teaming up with the legendary artists at Walt Disney Animation Studios. Now we're revealing artwork for fans to see the Minnie that they're most familiar with in a totally new light.
We're so grateful to the brilliant Lofi talent involved in this project. None of this could be possible without them, and their styles are so nuanced that this album really has something for everyone while maintaining a consistent vibe throughout.
Many Lofi music fans get in the zone by listening for hours, so we stacked 16 songs into Lofi Minnie: Chill for fans can get over an hour of listening with the first album combined. We're just getting started on reimagining fresh new interpretations of Minnie Mouse like this, and are so excited for people to see what she has in store."