Since Disney's partnership with the Wildfowl and Wetlands Trust started in April 2015, Disney has contributed hands on with the protection of wetlands and brought employees close to nature through numerous VoluntEARS Projects.
The Walt Disney Company Ltd have supported the Wildfowl and Wetlands Trust (WWT) since April 2015. The partnership is a great fit for Disney with our shared commitment to the environment, education and the enhancement of people's lives that come from being close to nature.
WWT is one of the world's largest and most respected wetland conservation organisations working globally to safeguard and improve wetlands for wildlife and people. (http://www.wwt.org.uk/)
Our partnership supports the demands of WWT's overseas or UK conservation projects and helps fund their learning work with children in the UK.
There are nine WWT Wetland Centres across the UK, bringing visitors and wildlife together around the most important substance in the world – water. Centres include the London Wetland Centre, an urban oasis for wildlife and people, just 10 minutes from our London office (http://www.wwt.org.uk/wetland-centres/london/).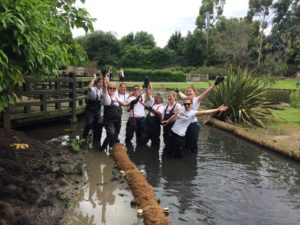 Since the partnership started, 82 Disney employees from different business areas have given 329 voluntEARing hours in numerous VoluntEARS projects throughout the center helping in a variety of tasks. From building fences or coppicing to painting or helping with the bank reclamation in the pond, while also gaining a better understanding of the importance of conservation.
"Another lovely team from Disney yesterday and a very successful day […] working to continue the resurfacing of our maintenance track, […] helping to refresh the loafing areas used by our birds in their exhibits and […] helping to position some protection to recent planting of marginals in one of our ponds.
They all got 'stuck in', getting a lot done, which is a tremendous help to us with the management of the reserve. […]
We enjoyed having the team here and as always I hope they all went, satisfied with the day and with an understanding of the work we do here at the centre promoting the protection of wetlands and all that depend on them for survival."
David Cowmeadow (Volunteer and Responsible of the Corporate Volunteering Programme at the WWT London Wetland Centre) – May 2016