In March, Disney launched the Wonder of Play campaign – a global initiative drawing on Disney's 100-year legacy of timeless stories, unforgettable characters, and memorable products – to inspire families to play together every day.
It comes as new research* shows that nearly half (46%) of parents believe that the role of play in children's development can't be ignored, with its many benefits including building social skills (48%), how to be creative (47%) and teaching them original thinking (45%).
As part of the campaign, The Walt Disney Company Europe, Middle East and Africa (EMEA) are distributing 40,000 space mission Play Packs to their hospital partners to help bring comfort, joy and strength to seriously ill children in hospitals and places of care across the region.
The Play Packs, created in conjunction with Disney's long-term charitable partner MediCinema and the Institute of Imagination, have been designed with the children's emotional resilience needs in mind. Disney themed activities have been crafted to help each child cope with their individual situation.
The packs are part of Disney's global commitment to create immersive and personal experiences that help deliver transformative Moments that Matter, to children who are seriously ill. The Play Packs have been created for 116 partner hospitals across 21 countries and in 17 languages, including Spain, Italy, Germany, Sweden, Denmark, Romania, The Netherlands, Poland and the UK and Ireland. All 40,000 Play Packs will be delivered to participating hospitals by the end of April 2023 bringing comfort, joy and strength whilst reducing anxiety and isolation. In the UK, the packs will be distributed to hospitals via MediCinema.
Recent research** highlights play can help give children their sense of control and autonomy back, which is often lost through illness and hospitalisation and can help build resilience in patients, and reduce anxiety, fear and stress that can arise in hospital settings.
Sara Hanson, Disney EMEA's Director of Enterprise Social Responsibility said, "We know from working with our charity partners and Healthcare Professionals how important play is for children in hospitals and places of care; and how the power of our stories can have a positive impact for seriously ill children and those closest to them. That's why we are really excited to be part of the Wonder of Play campaign, raising awareness around the importance of play for all".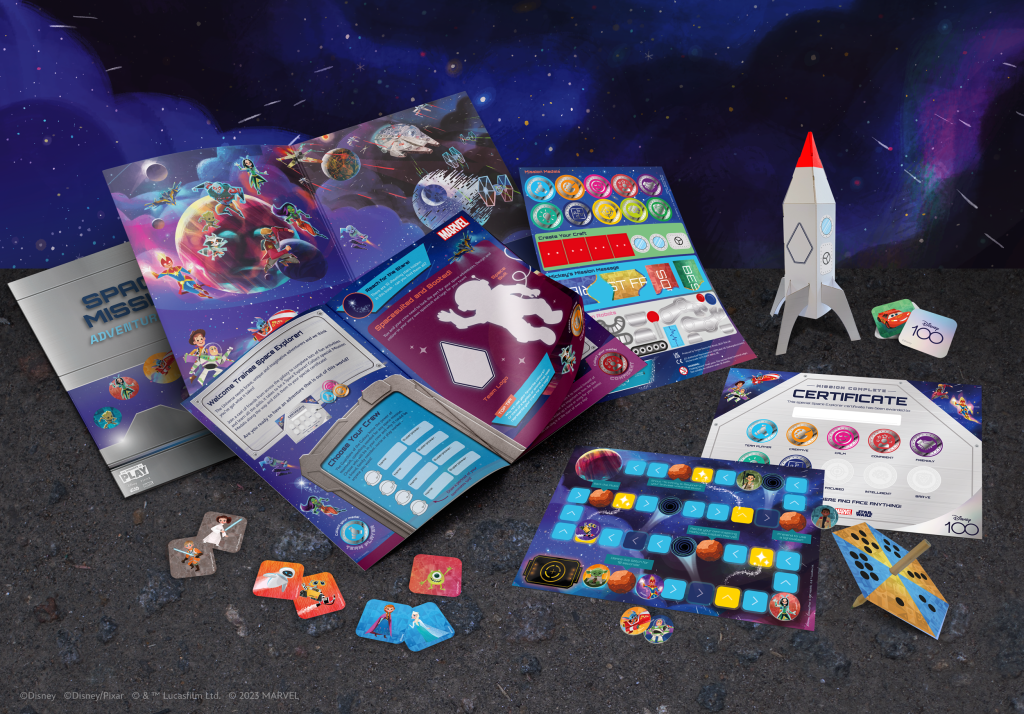 Since 2021, Disney and partners have purposefully created and delivered over 143,000 Adventure Packs to seriously ill children in hospitals across the EMEA region. The Wonder of Play packs build on the success of the Disney Princess Adventure Packs which were created in response to COVID-19. The packs, inspired by characters Rapunzel, Moana and Ariel, were given to children create to create Moments that Matter across UK hospitals.
Commenting on Disney play packs, one hospital play specialist said, "These packs really do make such a difference to our children at times of anxiety and stress and can help inspire them, feel strong and shine".
Since Walt Disney visited Great Ormond Street Hospital UK in 1951, Disney has been bringing comfort, joy and strength to seriously ill children across the region. With the purpose to inspire a better world through the power of stories. Disney's partnership with MediCinema and other not-for-profit partners across Europe is an example of how, working with others, they can help build emotional resilience. Bringing the power of the Disney brand, stories, and characters to inspire and create Moments that Matter for children and those closest to them when they need it the most. In 2022, Disney created over 82,000 life-changing moments across Europe. Disney's commitments, goals and progress is reported annually in The Walt Disney Company CSR report here.
* Source: Research conducted by One Poll is the study of 3,500 adults across the UK, France, Germany, Spain, Italy and Poland with children aged 2 to 8 years old, in February 2023
** Source: Starlight: The Impact of Play in Hospital, 2019