Since the release of Disney's The Lion King in 2019, fans have helped the Disney Conservation Fund, and collaborators around the world, to make huge strides in protecting lions and their habitats across Africa. Disney is excited to share some of the progress we have made together toward "protecting the pride," and healthy landscapes for African wildlife and communities.
In honour of the release of Disney's The Lion King, we launched the "Protect the Pride" global conservation campaign, focused on protecting and revitalising the lion population across Africa by raising awareness and contributing to the Wildlife Conservation Network's Lion Recovery Fund (LRF).
The LRF has directed this support to partner organisations working across Africa with a three-pronged approach to lion recovery: investing in conservation projects on the ground, developing campaigns that support the protection and revitalisation of Africa's lion population, and expanding collaborations among organisations.
Credit: Jeremy Goss, Big Life Foundation
To date, Disney's support has helped the LRF fund 193 lion conservation organisations with 167 projects, spanning 23 African countries. These grants have been disbursed across wildlands containing more than 50 percent of the African lion population, benefitting lions, their habitats and their prey as well as countless human communities involved in the protection of this iconic species.
Here are just a few examples of the projects that we've helped the LRF fund:
Discovering New Prides – In Tanzania, the Ruaha Carnivore Project and the Frankfurt Zoological Society are working with Tanzanian authorities and other partners in the vast Selous/Nyerere ecosystem to examine lion population dynamics in this large wilderness and discover threats to the cats in this key landscape to determine how to best protect the prides there.
Credit: Ruaha Carnivore Project
Securing the Last Lions – Panthera is providing funds and equipment for the dedicated rangers in Niokolo-Koba National Park to bolster protection of Senegal's last population of lions.
Credit: Susan McConnell
Empowering Communities – SORALO is working with Maasai communities in Kenya to secure safe spaces for lions outside of national parks, promote peaceful coexistence with people and support sustainable, pastoral livelihoods.
Credit: SORALO
Creating New Parks – In the Central African Republic, African Parks is establishing a new, vast protected landscape around Chinko Nature Reserve to reduce ecosystem degradation and provide the resources for lion prides to grow in the centre of the continent. The vastness of this landscape (21,000 square miles) means that the area has arguably greater potential for lion recovery than anywhere else in Africa.
Credit: Rich Reading
Reaching Across Boundaries – LRF and Disney are funding collaborations to protect interconnected landscapes for lions to be able to move and thrive, such as the work of Kalahari Research and Conservation and Cheetah Conservation Botswana, who are working with communities to sustainably manage lion habitats and prevent human-lion conflict in Botswana.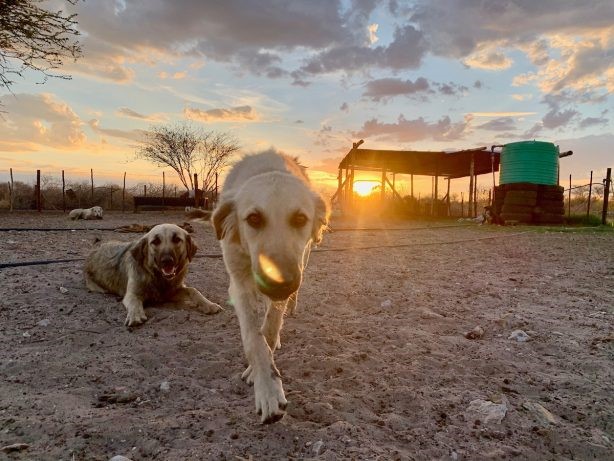 Credit: Cheetah Conservation Botswana
Both our Guests and our Cast have been an important part of supporting these achievements, from joining us on Kilimanjaro Safaris during the opening week of Disney's The Lion King film, to the efforts of our Cast to provide exceptional care for our pride of lions at Disney's Animal Kingdom, inspiring our Guests to learn more about these incredible animals every day. For a recap of the Protect The Pride Campaign activities that took place in 2019, read here.
One of the reasons we were excited to partner with the Wildlife Conservation Network's Lion Recovery Fund on this important effort was their strong vision to double the wild populations of lions by 2050. We believe that, together with you, we can work toward this vision and ensure the lion's roar can be heard across Africa for generations to come.
You can also celebrate the lions with your family and help Protect the Pride: